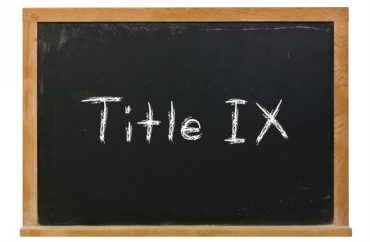 Hans Bader has been one of the wonkier voices criticizing the Obama administration's education policies, even as they continued in the first several months of the Trump administration.
Now the former Bush administration lawyer has returned to the Department of Education to join the Office of General Counsel, Politico reports:
Bader previously worked at the Center for Individual Rights and at the Education Department's Office for Civil Rights during the George W. Bush administration. He was sharply critical of many Obama administration education policies, particularly its enforcement of civil rights laws, which he has said amounted to federal overreach. He said in a blog post that Trump's proposed $9.2 billion cut to the department's budget was "justified and long overdue."

Bader was also a prominent voice on the right criticizing the Obama Education Department's campus sexual assault policies as trampling the rights of the accused and violating students' free speech rights. Education Secretary Betsy DeVos last month withdrew those policies, arguing that they made it too easy for students to be found responsible for sexual assault and that they denied due process to accused students. Bader joins the Trump administration as it plans to write new regulations governing how colleges should approach sexual assault cases.
An email to his Competitive Enterprise Institute address drew an automatic reply that said he left the organization as of Saturday to work at the Department of Education.
Bader contributed to a recent Federalist Society report that encouraged a wide-ranging review of race and sex mandates in federal education policy; criticized the undue attention given to "exotic" arguments against Obama administration guidance; and has often criticized race-based disciplinary decisions such as that imposed in Minneapolis Public Schools.
MORE: First Amendment crusader joins Department of Education
IMAGE: CLS Digital Arts/Shutterstock
Like The College Fix on Facebook / Follow us on Twitter