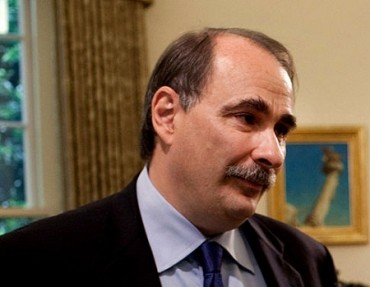 After President Barack Obama's run for re-election ends in November, the President's top strategist David Axelrod will be setting his sights on academic pursuits, directing a non-partisan Institute of Politics at his alma mater, The University of Chicago.
"The Institute of Politics that David Axelrod will direct is intended to provide a dramatically increased set of experiences for students with (political) interests, to develop their understanding of opportunities and to increase their capacity for careers in politics or public service more broadly," said University President Robert Zimmer on January 19th. The announcement came during a university panel discussion about the 2012 presidential election.
Modeled after Harvard University's Institute of Politics, the institute will offer three main non-curricular resources: a quarterly visiting fellows program, an expanded number of available public service internships, and a public lecture series focused on politics and public service.
The institute's internship program will build upon those offered through the Metcalf Fellows program, the Chicago Careers in Public and Social Service, and the Harris School of Public Policy Studies.
According to Jeremy Manier, UC's news director, the university has yet to select specific lecturers for the institute, but Axelrod described the Jan. 19 election panel as a "preview of coming attractions." The panel featured George Stephanopoulos of "Good Morning America," New York Times columnist David Brooks, Republican media consultant Alex Castellanos, Chicago Mayor Rahm Emanuel, and prime-time news anchor Rachel Maddow.
Brooks will also serve on the institute's board along with Massachusetts governor Deval Patrick (D), Republican media consultant Michael Murphy, Pulitzer-Prize winning journalist and historian Dorris
Kearns Goodwin, and top aid for the mayor of New York City Howard Wolfson.
By housing people from both ends of the political sphere, the University of Chicago will work to keep the Institute non-partisan, Manier said.
"I hope to encourage and nurture in as many students as we can a passion for politics and public service whether they lean left, right, or center, democrat, republican, green, or whatever," Axelrod said in the announcement.
Other university faculty and students said they believe Axelrod will be successful in his mission.
Vice President of the University of Chicago Student Government Meher Kairon said Axelrod is "very open-minded and wants to encourage students from both sides of the fence to explore the idea of politics."
"The University of Chicago always has welcomed a wide range of views and open debate on scholarly and political subjects," Manier said. "That's a tradition the IOP will embrace and carry forward."
Manier also said he believes "the news was energizing for students and faculty members," especially given the 500-person turnout to the Jan. 19 panel. In an interview with Manier, Stephen Sunderman, president of the University of Chicago College Republicans, expressed support for the institute, calling it an "exciting opportunity that will bring multiple political views front and center on campus through stimulating speakers and fruitful debate."
Meher also said she is very excited about the institute's creation and believes that Axelrod will be a great director, given his commitment to politics and non-partisanship.
"This is a campus where students like to disagree respectfully," Meher said. "I think that the institute with the speakers that it brings to campus and the expertise that it will bring in terms of the political practitioners and the public speakers…will offer a space for students to be able to have discussions relating to politics."
The Chicago-Sun Times also reported that the university may eventually house the Obama Presidential Library, although Axelrod told the newspaper that such a decision would be made far in the future.
In the meantime, Axelrod said in his announcement that he hopes to provide students at the University of Chicago with a better understanding of the world of public service, a view he hopes will encourage students to pursue careers in that field.
"You'll find that even with all its frustrations and sacrifices … it's a vital, exciting, meaningful life," Axelrod said. "I hope through this institute, you'll get a taste of that."
Fix Contributor Margaret Nickens is a freshman at Brown University.
Like The College Fix on Facebook / Follow us on Twitter