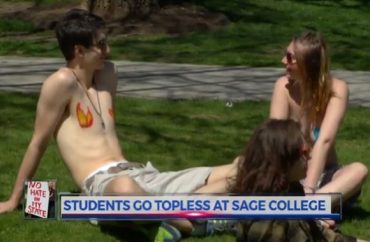 A Russell Sage College student who is biologically female but identifies as "androgynous" was recently told by a school security officer to put a shirt on while sunbathing – launching a chain of events at the all-female campus that ended with a recent topless protest.
Androgynous means partly male and partly female in appearance, and is not the same as transgender.
A mix of several dozen male and female students attended the protest last Wednesday at the campus, which is located in Troy, New York — a state that allows females to be topless as long as it is not for commercial purposes.
At the protest, some students wore bras, others went topless, others painted over their breasts. Male students from nearby campuses got in on the action too, with one heavyset male student painting on his chest: "Men have breasts too."
James Corola, a sophomore at @sage_edu, enjoys the spring breeze. #istandwithcedar pic.twitter.com/SxPvPr7KV2

— bethany bump (@bethanybump) April 20, 2016
Other students held signs with slogans such as "gender inclusivity," "my bod, my choice" and "no hate in my state."
Click here to see a slideshow of photos from the protest.
What reportedly spawned the display was a security guard had asked the student, Cedar Brock, if they were a "boy or girl," and eventually police were called and they also insisted the student put a shirt on, claiming city law forbids toplessness, reports the Hudson Valley Post.
"It's not just my rights that were trampled on," Brock told the Times Union about the incident. "It was everyone's rights that were trampled on."
NEWS10 speaks to the student who sparked topless protests @ Sage College #IStandWithCedar https://t.co/gc3zDrbPzr pic.twitter.com/q3GiodwKl2

— NEWS10 ABC (@WTEN) April 21, 2016
Campus officials have since apologized, citing the "rapidly changing culture" and informing news outlets campus security is getting an update on training, the Times Union reports. A campus spokesperson did not respond to a request for comment from The College Fix.
Campus administrators also voiced support for the protest, and are investigating the incident between Brock and public safety officers, the Times Union reports.
The Sage Colleges prioritize inclusiveness. The system maintains an Office of Cultural Enrichment and Diversity that helps students "explore perceptions and challenge stereotypes" and "empower students, faculty, administrators and staff to participate in ongoing diversity efforts," according to its website.
Like The College Fix on Facebook / Follow us on Twitter
Main Image: screenshot