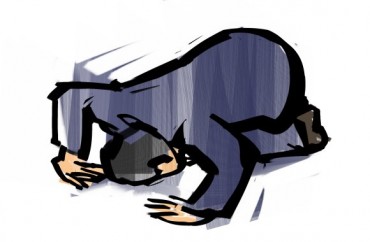 Interim President Timothy Chandler of Towson University near Baltimore, Maryland, has signed a document "affirming his intention to actively address or advocate for a list of demands" brought forth by a group of black protesters.
The group had occupied Chandler's office "until they were satisfied with [his] response."
The president was apparently sufficiently groveling, thanking the students for their "terrific work" and saying he admired their "courage" and "stick-to-itness."
Some of the "sincere" and "swift" institutional changes Chandler signed off on (again, merely to "affirm his intention to actively address or advocate") include:
— increasing the number of tenure track black faculty by 10% by 2018
— ensure every college/department has one meeting per semester devoted to "cultural competency" … content approved by a student representative
— advocate that fraternities and sororities have "Diversity Chairs" who will advocate for (what else?) diversity
— require that policing practices be "equitable" for white and black events alike
— advocate for a course requirement in American race relations.
Students, administrators and university legal counsel went over the document line by line, and oftentimes word by word, discussing what Chandler could or could not sign.

Students staged a sit in, and stayed in the office until they were satisfied with a response from the University.

"It's all love, but it's radical love," student activist Bilphena Yahwon said.

Ultimately, the demands were fully revised twice before both parties were satisfied. The students took time to regroup and refocus to ensure that their demands were agreed upon by all present.

"At the end I think that we made a victory, but for me, it's more analyzing the size of the victory," student activist John Gillespie said. "And how we can maximize the size of the victory, and how we could minimize any losses that we did obtain."

According to the document signed by Chandler, "in the event that [he does] not keep [his] promise and begin to address these concerns, [he] will resign as president of this University for failing to effectively represent black students."
Now that last sentence is quite interesting. Considering the rather relative nature of the demands, any takers on how soon it will be until the protesters clamor that Chandler's efforts are … "insufficient?"
Read the "final" signed document here.
Read the full Towerlight article.
Like The College Fix on Facebook / Follow us on Twitter
IMAGE: Shutterstock