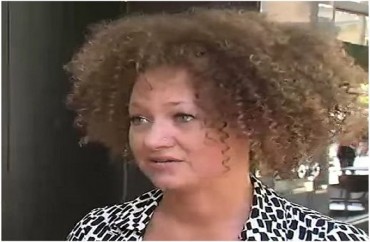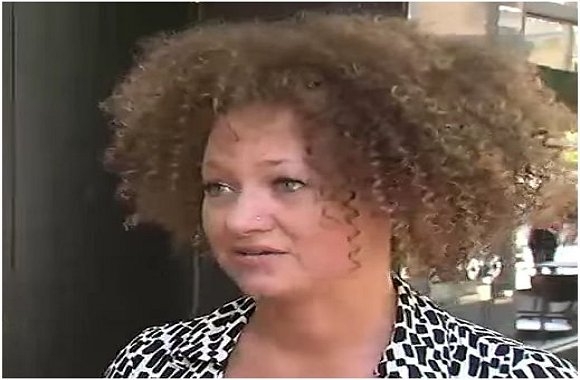 With a new book ready to come out next month, "trans-racial" Rachel Dolezal — the white former Eastern Washington University adjunct and Spokane, Washington NAACP chief who claims she is actually black — recently granted an interview with The Guardian in which she says she can't get a job … and is depending on food stamps.
She claims her situation is akin to being a (racial) "punching bag": "There's nobody saying, 'Well, that's racist if you say that about Rachel', or 'That's sexist if you say that about Rachel.' There's no protected class for me. I'm this generic, ambiguous scapegoat for white people to call me a race traitor and take out their hostility on.
"And I'm a target for anger and pain about white people from the black community. It's like I am the worst of all these worlds."
Dolezal has unsuccessfully applied for over 100 jobs, including her previous college where, she alleges, former colleagues "pretended to have no recollection of having met her" during interviews.
She's legally changed her name, too, but to no avail — people still recognize her. The only job she can get, she says, is in "reality TV, and porn."
The 39-year-old says she can count the friends she has left in town on her fingers. "Right now the only place that I feel understood and completely accepted is with my kids and my sister." She has written a memoir, titled In Full Color, but 30 publishing houses turned her down before she found one willing to print it. "The narrative was that I'd offended both communities in an unforgivable way, so anybody who gave me a dime would be contributing to wrong and oppression and bad things. To a liar and a fraud and a con."

She wrote it, she says, "to set the record straight. But also to open up this dialogue about race and identity, and to just encourage people to be exactly who they are." Some will read it as the first draft of a new version of identity politics, which casts race – just like gender – on a spectrum, and its author as the world's first trans-black case. Others won't believe a word of it. I'm not even sure whether this is a story about race, or a strange tale of one family's dysfunction. …

If the narrative of fluid, non-binary gender identity is now widely accepted, Dolezal believes the same should apply to race. "It's very similar, in so far as: this is a category I'm born into, but this is really how I feel."

Is racial identity as fluid as gender? "It's more so. Because it wasn't even biological to begin with. It was always a social construct."
But transgender advocates take issue with that, claiming people transition (to another gender) out of medical necessity, whereas Dolezal altering her race is "is surrounded by layers of deception."
MORE: Rachel Dolezal disinvited from M.L.K. event after community backlash
MORE: Dolezal's time as professor, student marked with bizarre, controversial claims
Like The College Fix on Facebook / Follow us on Twitter
IMAGE: YouTube