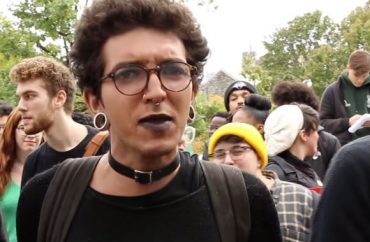 UPDATED
Proposed law may punish anyone who refuses to use preferred pronouns
Students at the University of Toronto say their student government is fabricating hate crimes, while ignoring attacks made on free speech advocates at an event last week.
The student government accused supporters of a U of T psychology professor – now under fire for his public comments dismissing genderless pronouns – of assaulting transgender students at a rally on Tuesday.
At least a dozen videos from a free speech rally supporting Prof. Jordan Peterson Oct. 11 show protesters shoving free speech supporters, drowning out demonstrators with white noise and hitting a conservative news crew.
But by Sunday evening, the Students' Union (UTSU) was calling for a "public inquiry" into the U of T Campus Community Police because officers "refused to intervene" when transgender people were "assaulted" at the rally.
"Tuesday's rally was marred by bigotry and violence," and police "knew of and saw trans folks being assaulted" and did nothing, the UTSU Executive Board claimed in a statement.
"This is intolerable. Even now, the University has done nothing to ensure that all students are safe on campus," the statement continued, claiming black and trans students were forced to endure "violence, hate speech," "threats" and "hateful and racist remarks."
"It is unacceptable for the Campus Police to fail in their responsibility to keep students safe from violence on campus, and specifically against trans students," the statement said.
Criminalizing 'basic human nature'
Prof. Peterson enraged the trans community at U of T three weeks ago when he released the first video of a three-part series titled "Professor against political correctness," which criticizes legislation that he claimed would punish people for "misgendering" others.
Peterson opposes Bill C-16, introduced in May by the Liberal government, which would amend the Canadian Human Rights Act and the Criminal Code to prohibit harassment and discrimination based on "gender identity and gender expression."
Ontario passed similar legislation in 2012. According to a 2014 Ontario Human Rights Commission policy document, "Gender identity is each person's internal and individual experience of gender. It is their sense of being a woman, a man, both, neither, or anywhere along the gender spectrum."
Gender expression is how a "person publicly presents their gender," which can include dress, hair, makeup and preferred pronouns, the commission says.
The bill targets discriminatory practices against trans people in housing and the workforce, but Peterson believes that it would also prohibit the simple refusal to use someone's preferred pronouns.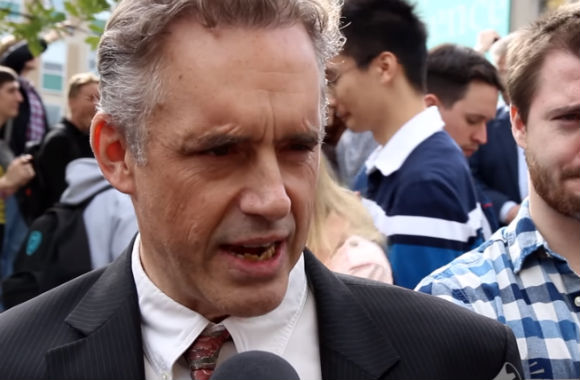 "The changes of the law scare me because they put into the legal substructure of the culture certain assumptions about basic human nature that, not only I believe to be untrue, but they're also dangerous and ideologically motivated," Peterson says in the first video.
Peterson – known before this for a TEDx talk on "potential" – has been outspoken against using "they" as a singular pronoun rather than "he" or "she."
"I can envision a student or a colleague insisting that I call them using gender-neutral pronouns," he says in his September video.
Transgender advocates have proposed numerous "genderless" additions to describe those who don't fit in the "gender binary." Among the gender-neutral constructions published in this year's Diversity Style Guide by San Francisco State University's Center for Integration and Improvement of Journalism: "it," "they," "ze," "xe," "ey," and "per."
"I'm not doing that," Peterson continues in the video. "I think it's manipulative and I don't recognize another person's right to determine what pronouns I use to address them. … I think some of the things that I might say in my lectures might be illegal" under the proposed law.
'Don't smile at me, bitch'
Police intervened when a transgender woman attacked The Rebel commentator Lauren Southern, a libertarian-conservative who has run for political office, as documented in a video Wednesday – one of many shot by bystanders and The Rebel.
"Are you trans? Are you experiencing oppression?" a transgender woman yells at an unidentified Asian-Canadian speaker at the rally. Turning toward Southern, who is off-camera, the transgender woman says "Don't smile at me, bitch" and then grabs toward Southern.
"As usual, I was pushed around at the rally in a stunning display of 'peaceful protest' and 'honesty' from the far left," Southern wrote for The Rebel Wednesday. She said she reported the incident to Toronto police and is filing criminal assault charges, though Toronto Police Services claims it is not investigating any reports stemming from the rally Tuesday (see below).
In a Sunday email to The College Fix, Southern identified the transgender woman as Facebook user Meera Ulysses.
In a Facebook message Sunday, Ulysses told The Fix that free speech advocates at Tuesday's rally participated in violence against transgender people. Asked for the basis of her claims, Ulysses asked for The Fix's "purpose in writing this article" but did not respond to further queries.
At least one member of U of T's student government attempted to shut down the free speech rally Tuesday.
Video shows UTSU Vice-President of University Affairs Cassandra Williams, a transgender woman, operating large speakers to drown out Peterson with white noise. Another video shows Williams blocking a woman from chasing someone the woman accused of stealing her phone.
Other videos from protests last week and the previous week showed students alternately blocking and making obscene gestures toward The Rebel's cameras. Another protester glitter-bombed Southern.
Student newspaper The Varsity reported that a fire alarm was pulled in an adjacent building partway through the rally, leading students to pour out into the street.
Students stunned by 'completely ludicrous' claims
UTSU is calling for a "full, public inquiry into the University of Toronto Campus Community Police" by an "unbiased party" outside the administration.
"An investigation by the administration—to which students have no access—will not be sufficient," the Facebook statement continued.
U of T student Mohammad Shaban was one of dozens who sounded off against UTSU in the comments section within hours of the post. "How could anyone trust an impartial investigation while your identity politics are showing?" he wrote.
"I am on neither side of the political spectrum," Shaban, who did not attend the rally, told The Fix in a Facebook message Sunday, "but I am all for free of [sic] thought and diversity of opinion and therefore am discontented when that fundamental right is curtailed."
UTSU did not immediately respond to Fix emails inquiring about alleged violence towards trans people Sunday night and early Monday.
Its statement left many students to speculate about the basis of the accusations of transphobia and racism at the Oct. 11 event.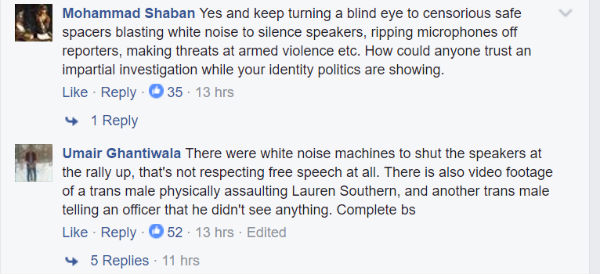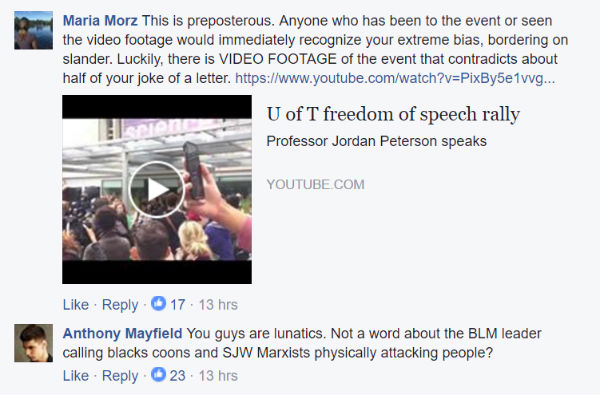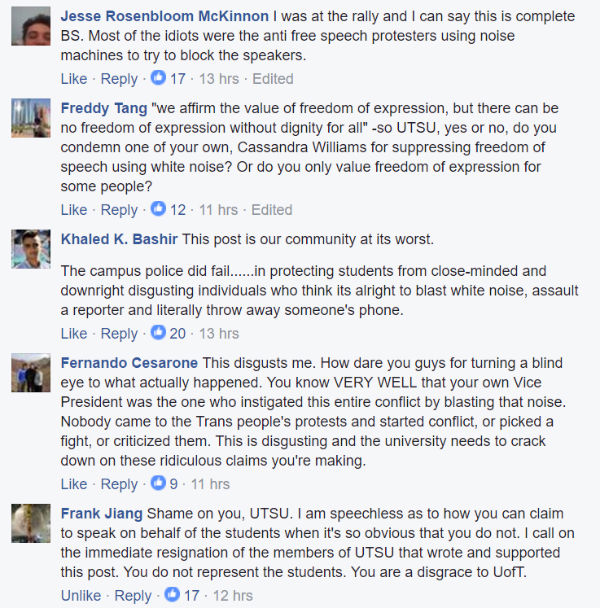 "I did not witness any physical violence towards people who identified as transgender at the event," U of T student Calix Zhang told The Fix in a Facebook message Sunday.
According to The Varsity, one man yelled "We need more Michael Browns!" That refers to the shooting death of a black man by a police officer in Ferguson, Missouri, which fueled protests and a growing Black Lives Matter movement in 2014.
"[H]e in no way spoke for the majority of attendees," said Zhang, who characterized the man's comments as "disruptive."
Most of the invective at the rally came from Prof. Peterson's opponents, Zhang says: "There was an Ethiopian speaker was [sic] called a 'coon' and 'token black' after speaking at the mic in favor of free speech."
Zhang said the success of the event prompted him and some friends to create the Facebook group Students in Support of Free Speech. The group, which now has over 400 members, plans to become an officially recognized club through the university, he said.
'Far-right' elements joined the rally
New violent incidents from the Oct. 11 rally were reported Monday by The Varsity.
It said campus police detained a man for using a door to  "crush" the head and body of protest organizer Qaiser Ali, a trans woman and former student.
One student identified as "Ben" said an older man in Hells Angels clothing and another older couple "shoved me … and used racial, homophobic, and transphobic slurs and epithets with myself and other protestors on separate occasions," including once when Ben was "in the way of someone he was about to punch."
Prof. Peterson acknowledged to The Varsity after the free speech rally that "far-right" agitators had joined the cause.
"For the first time in my life, I'm seeing young men turn to the right," he said. "It's not good, and there are being people called out of the woodwork that you seriously do not want to meet."
U of T spokesperson Althea Blackburn-Evans told The Varsity that Campus Police were investigating two reports of assault at the rally, though Constable Craig Brister of Toronto Police Services said it was not investigating any charges related to the rally.
Blackburn-Evans said the university is reviewing UTSU's Sunday statement.
UPDATE: Toronto Police Services said it is not investigating any charges related to the Oct. 11 rally. More allegations of violence at that rally also emerged in The Varsity Monday. The article has been amended accordingly.
Like The College Fix on Facebook / Follow us on Twitter
IMAGES: The Rebel/YouTube, UTSU/Facebook