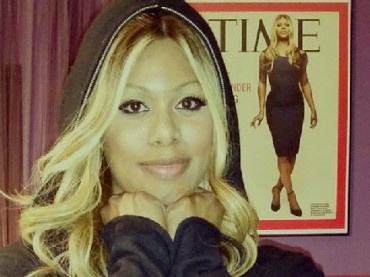 One of America's most prominent transgender television stars is visiting U.S. campuses, encouraging students to accept, embrace and defend the transgender lifestyle – and they're eating it up
"What I have to ask is, ain't I a woman?" asked transgender actress Laverne Cox at George Washington University on Tuesday. In response, the packed auditorium resounded with frenzied cheers and screams.
"Oh my gosh I'm in love with her!" gushed one student in the audience, mirroring students' comments on Twitter, such as: "I am so overwhelmed by words right now. She is an activist, icon, and woman for the ages" and "I will forever remember my claim to fame – when I handed Cox a water bottle onstage before GWU and the eyes of God."
Cox visited the Washington D.C. campus for its "Trans Day of Visibility," designed to celebrate and promote awareness of the LGBTQ community. And it's not the only university the star will visit to urge college students to accept, embrace and fight for the transgender lifestyle. She's on something of a campus tour.
The star of "Orange is the New Black" – the first trans-woman of color to have a leading role on a mainstream television show – also swung by the University of Pittsburgh on Monday to address a standing-room only crowd of college students. The week prior, Cox visited Canada on behalf of the University of Toronto, where the star reportedly spoke in front of 2,000 students and received three standing ovations. Back in January she was at Missouri State.
Cox is slated to visit Arizona State University on April 8 for its "ASU Pride" week. On April 23, Loyola University Chicago – a Jesuit, Catholic institution – will host Cox. On April 29, the activist
will visit Wichita State for an event titled "Ain't I a Woman? My Journey to Womanhood."
And the message the trans star is sharing with students all over North America does not mince words, at least if the comments at George Washington University on Tuesday are any indication.
"I've come to understand after all these years of experience that calling a transgender woman a man is an act of violence," Cox said, and the audience went wild.
Wearing a form-fitting black and brown dress and black stilettos, with her long blonde hair flowing and heavy makeup, Cox – who was born a male – giggled and flipped her hair and thrilled the audience with a stunning smile throughout the speech.
"It's amazing, being transgender is beautiful," Cox said to heavy applause.
In her address, Cox shared her journey from living as a male in Mobile, Alabama, with her low-income single mother, to her sparkling career as an openly transgender, Emmy-nominated actress in New York. Cox also told the audience of her outrage at verbal abuse, racial slurs and transphobic comments she has received, testifying to the "horrific" and "oppressive" things the transgender community is forced to endure. Once, she said, a person kicked her as she passed by.
"I still have a good bit of PTSD," she said, adding that she often cannot leave her apartment out of fear of violence. "I've often wondered as a trans woman would today be the day that I'm a victim or a survivor – or maybe I won't survive."
Cox also emphasized the importance of what she considers correct pronoun usage, saying that she feels felt victimized or shamed when referred to as a man. She said she believes Americans are still living in a "plantation culture," where society forces similar groups like African Americans, gays and women to police each other.
According to various news reports, Cox had made very similar statements at her other recent campus appearances.
The D.C. crowd also roared its approval when Cox praised the university's mandatory gender sensitivity training, which has brought the campus into the national media eye due to a boycott of the training by the school's conservative Young America's Foundation chapter.
"Justice is what love looks like in public," Cox said, arguing that the transgender community just needs more love and understanding – and less criticism.
Watch a snippet from Cox's appearance at George Washington University:

Allied in Pride – the student group that hosted Cox at George Washington University – distributed a "Queer Guide" to all attendees, packed with "some friendly terms and definitions to get you started on understanding the vast spectrum that is queer
identity."
The brochure defines terms like "pansexual," "genderfluid," "androgynous," and "demigirl/demiboy" — to educate readers on all aspects of attraction, gender and sex.
"One's pronouns reflect and reinforce their gender identity when used in reference to them," the brochure reads. "A pronoun does not have to be a 'documented dictionary term' for it to be used – they/them and ze/hir are just as valid as she/her and he/him!"
Condoms were also distributed at the event.
"If our society is not inclusive of some of us, it is too exclusive of all of us," said Rob Todaro, president of GWU's Allied In Pride student organization.
College Fix reporter Vivian Hughbanks is a student at Hillsdale College.
Like The College Fix on Facebook / Follow us on Twitter
IMAGES: Main, Instagram/Inside, Vivian Hughbanks