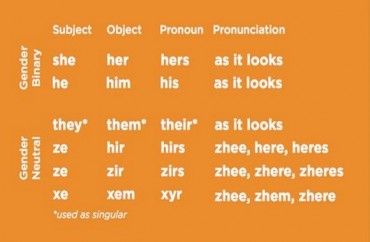 An elementary school teacher who identifies as transgender — specifically "transmaculine" and "genderqueer" — will be awarded $60,000 from Oregon's Gresham-Barlow School District for "emotional distress" suffered at the hands of her fellow employees.
Leo Soell "came out" after "they" — the pronoun Soell uses — had a mastectomy in early 2015.
Soell allegedly requested everyone at school refer to "they" as such, but the principal refused. (We'll be putting "they" and associated terms in quotes so as to avoid confusion in the story.)
If "they" was asked by students about "their" gender, "district leaders told Soell to respond, 'We all have private lives, and it would not be appropriate to talk about our private lives during the school day,'" EAGNews.org reports.
The school administration claims it was worried about "age appropriateness."
Soell alleges that "their" co-workers kept calling "them" "she," "lady" or "Miss Soell." Other complaints included yelled insults and a "conspiracy" to prevent "them" from using the one gender-neutral bathroom.
Nevertheless, a district investigation turned up no proof of harassment.
But Gresham-Barlow officials agreed to a settlement this month that compensates Soell for emotional damages. District leaders also agreed to add gender-neutral bathrooms to all schools, create clear policies about transgender teachers and host mandatory trainings for all Gresham principals, as well as Hall [Elementary School] staff.

As part of the settlement, district leaders agreed to build gender-neutral restrooms at all Gresham-Barlow schools within three years. The district also agreed to pay Soell $60,000 for attorney fees and emotional distress. That amount also covers money Soell spent out-of-pocket for cancer-related expenses that the district's health insurance rejected because Soell is transgender.
RELATED: Gender pronoun insanity: New York City promises to FINE people for not using 'ze' or 'hir'
The greater victory, Soell said, will affect teachers across Gresham. District leaders agreed to develop official guidelines about transgender staff by August. Those guidelines, inspired by similar policies in Portland and Eugene, will address names and pronouns, as well as bathroom access for transgender employees.

In the meantime, Hall Principal Heidi Lasher emailed all teachers and staff reminding them that the district's anti-bullying policies refer to teachers, too.

"These policies require that all staff address transgender or gender non-conforming employees with their correct name and pronouns," the principal wrote. "If you are found to be in violation of these policies, you will be subject to discipline up to and including dismissal."
Dismissal? This appears akin to the New York City Commission on Human Rights threat to fine people for not using the pronouns people prefer — from the very first interaction.
As attorney Eugene Volokh wrote,
So people can basically force us — on pain of massive legal liability — to say what they want us to say, whether or not we want to endorse the political message associated with that term, and whether or not we think it's a lie. …

We have to call people "him" and "her" even if we believe that people's genders are determined by their biological sex and not by their self-perceptions — perceptions that, by the way, can rapidly change, for those who are "gender-fluid" — and that using terms tied to self-perception is basically a lie.

[…] what if some people insist that their title is "Milord," or "Your Holiness"? They may look like non-gender-related titles, but who's to say?
Indeed, one of Soell's complaints was one teacher telling "them" that "their" gender is a "belief system" and that "they" did not have the right to make others believe in it.
There was more to this particular incident, like yelling and the invocation of God, but the essential point goes directly to Volokh's beef: Even if this teacher was as pleasant as could be but still refused to use Soell's preferred pronoun of "they," dismissal could be in the cards.
RELATED: Students protest professor for not using transgender students' preferred pronouns
RELATED: Students demand disinvitation of feminist icon who says transgender women are not real women
Like The College Fix on Facebook / Follow us on Twitter