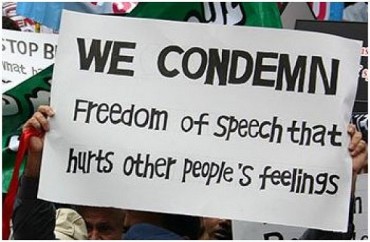 The campaign of hurt feelings over basic constitutional rights rocks on across the country, most recently at Amherst College where protesters want administrators to "apologize for signs that lament the death of free speech."
Seriously.
"A group calling themselves the Amherst Uprising listed 11 demands they want enacted by next Wednesday. Among them is a demand that President Biddy Martin issue a statement saying that Amherst does 'not tolerate the actions of student(s) who posted the 'All Lives Matter' posters, and the 'Free Speech' posters,'" The Daily Beast reports.
Read that again. Carefully.
Even better: A.U. also wants those responsible for the fliers to "go through a disciplinary process as well as 'extensive training for racial and cultural competency.'"
Welcome to Mao's China, people.
Or,  in this case, Khrushchev's Soviet Union: 'Cal Poly Students Protest A Free Speech Wall for Having Free Speech,' reports The Daily Wire.
The Cal Poly College Republicans had erected an ersatz Berlin Wall as part of the Young America's Foundation "Freedom Week."
However, as you can imagine by now, this did not sit well with some folks, especially the SLO (San Luis Obispo) Solidarity.
Here's a sample of what they found offensive on the wall:
— "All Lives Matter"
— "Islam is a political movement of violence and oppression" underneath a picture of Mohammed carrying rifles and explosives.
— "Don't draw me I'll jihad your face! ALLAHU AKBAR" was next to the Mohammed picture.
— "Islam has no place in free Western World."
— Blank checklist showing "male," "female" and then "Gender: Pick One"
Now, yes, some of that could certainly be deemed offensive. But that's what free speech is all about … but way too many of today's college students are completely clueless about it.
"The people who say (All Lives Matter) … are not supporting any of the Hispanics that gotta deal with (Donald) Trump's bullshit," Black Student Union member and psychology junior Kristin Lee told Mustang News. "They're not supporting any of the black people that gotta deal with white privilege or anything or on campus. They're not supporting anything, but they want to say 'All Lives Matter.'"
See what I mean?
RELATED: Students protest pro-free speech display at UMich
Unfortunately, and not surprisingly, Vice President for Student Affairs Keith Humphrey doesn't get it either:
Last night more than 100 students, faculty and staff gathered on Dexter Lawn to stand in solidarity in response to written comments and drawings on a student club sponsored free speech wall. Some of the written comments and drawings were hurtful and mean spirited towards members of the Cal Poly community. I stood with them and shared in the pain that these students feel when words are used to hurt.

While these words are protected speech under the First Amendment, we need to stand together as a community that cares about each other. Our students were clear that behavior that excludes others has no place at Cal Poly.
Is that so, Mr. Humphrey? Who decides which speech "excludes" others? And, if it "has no place," but is indeed protected speech under our Constitution, how exactly would Cal Poly deal with it?
Isn't showing displeasure at, and protesting against, a phrase like "All Lives Matter" excluding people? You can't get any more inclusive than by expressing "All Lives Matter"!
The Daily Wire's Aaron Bandler reports that two years ago, the Berlin Wall mock-up generated debates, not protests.
"What has changed between now and then is that college students have become petulant children where feelings trump logic, reason and debate … [f]ree speech is being trumped by childish feelings."
Uh oh — he forgot a trigger warning for the word "trump."
Read the full Daily Beast and Daily Wire articles.
RELATED: Mizzou student government VP is 'tired of hearing' about First Amendment protections.
Like The College Fix on Facebook / Follow us on Twitter
IMAGE: Sam Graham/Flickr