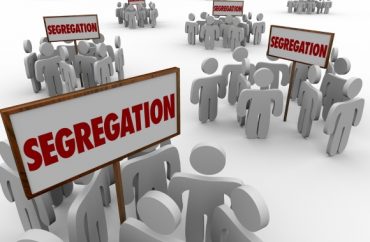 Colleges are hosting separate graduation ceremonies for ethnic, sexual and immigrational minority students. Here are a few of them.
A growing movement appears to be spreading to more and more college campuses around the country: individualized graduation ceremonies segregated by race, sexual orientation, immigration status and other minority groups. These events are held in addition to standard graduation ceremonies, celebrating the different racial, ethnic, sexual and immigrational identities of the participants.
This movement started in part many years ago, with campuses hosting so-called "Lavender Graduation" ceremonies for LGBTQ students; according to the Human Rights Campaign, the first Lavender Graduation took place 22 years ago, in 1995. Black graduation ceremonies have taken place at some American campuses for even longer.
Here are four such gatherings from the past school year.
Harvard's Black Commencement
In 2017, the Black Graduate Student Alliance at Harvard hosted the school's first Black Commencement ceremony for all black graduate students at the university. The ceremony featured various black students speaking about their time at Harvard, according to Harvard Magazine.
Harvard student Duwain Pinder, who graduated with a joint Master of Business Administration – Master of Public Policy, warned his peers that society will attempt to use the graduates' Harvard degrees against other blacks: "They want our Harvard crest to become a symbol of how we made it and others didn't. They will want to use us as exceptions to their rule. They will try to craft our stories as examples of the benefits of personal responsibility. As proof that the American dream exists for all rather than just a select few, but we know better….We are only a fraction of the black brilliance that lies under the surface."
Graduate Kyrah Malika Daniels, who earned her Ph.D in African and African American Studies, applauded her fellow graduates for "investigating the challenges of the education system or the failures of the criminal-justice system. Our frustration is that these institutions have not been designed for us, and I am honored to graduate alongside professionals, scholars, activists, and artists working to change this."
At the close of the ceremony, the first annual Harvard Black Legacy Award was granted to Lisa Coleman, the university's chief diversity officer. The award is given to "recent Harvard alumni who have committed themselves to the pursuit of social equity," according to Harvard Magazine.
The College Fix reached out to Harvard's media relations to request comment from the Black Graduate Student Alliance, but a spokesperson informed The Fix that Harvard would not give out student contact information.
Black student graduations have been growing in popularity in recent years. A ceremony known as "the Donning of the Kente" has taken place at a number of college campuses over the past few decades. This ceremony, according to one university, "recognize[s] the academic and personal achievements of [black] graduates, and [encourages] them to accept the challenge and responsibility to continue to strive for excellence in their personal, academic, and professional careers."
UMass's Undocumented Graduation
The University of Massachusetts's Immigrant Student Task Force this year featured the school's first-ever graduation ceremony for students in the country illegally.
Speaking with the Latin culture website Remezcla, Renata Teodoro, founder of the Immigrant Student Task Force and organizer of the UndocuGrad Celebration, described her rationale for creating the event.
"Many of us [who graduated made] it through tremendous obstacles," Teodoro said. "[Me] and another student were separated from our parents because of this immigration system, and we knew they wouldn't be at our graduation. Others had to work several jobs or had to stop going to school for awhile, but somehow we found a way to make it."
According to the event's Facebook page, several university groups besides the Immigrant Student Task force came out to support the event, including UMass's Office of Diversity and Inclusion and the UMB Alumni Association. Teodoro told Remezcla that one professor on the task force even pitched in to purchase stoles.
Teodoro said she hoped it would serve as inspiration for others like her.
"[W]e wanted to tell our story in the hope that this would motivate others to support the next generation of undocugrads," she said.
The College Fix reached out for comment to both Teodoro and the University of Massachusetts's Office of Diversity and Inclusion. Neither responded.
A similar ceremony for illegal immigrants was held at the University of California, Berkeley this year, according to Remezcla.
Colorado Native Graduation
At the University of Colorado Boulder this year, the Center for Native American and Indigenous Studies hosted Native Graduation for all students of Native American origin.
The university regularly hosted Native graduation ceremonies until the practice was halted in the 1990s. This year's event marks the fifth since the tradition was revived in 2012, according to the local Boulder newspaper the Daily Camera.
More than a dozen Native American students were honored at the ceremony, according to the school's paper CU Boulder Today.
Reached by phone, CNAIS spokesperson Lynne Howard told The College Fix that the ceremony featured two speakers: author and University of Colorado Professor Linda Hogan, and law school Dean James Anaid.
Howard claimed that many native students face difficulty in coming to Boulder. "[The ceremony] marks a very important occasion for native students," she said.
Native Graduation is an event where the "hard work they've done [is] celebrated by all," Howard added.
Similar ceremonies are held at other universities, including South Dakota State University, Portland State University and Arizona State University.
Georgia Lavender Graduation
The University of Georgia this year was one of dozens of universities that hosted a Lavender Graduation for LGBT students.
Lavender Graduation ceremonies have been taking place on American campuses since the mid-1990s. At the University of Georgia, it's a tradition dating back to 2005. Put on by Georgia's LGBTQ Resource center, this year's ceremony was held April 29.
The event featured 30 graduate and undergraduate students, which was the largest yet, according to the school's newspaper The Red & Black.
Speaking with The Red & Black, director of the LGBT Resource center Meg Evans described the motivation for the ceremony: "It serves as a celebration and a way to honor folks in community in a way that feels important to them."
Honorary diplomas were presented at the ceremony, a commencement speaker addressed the group, and LGBT-specific awards were given out.
The commencement speaker this year was Dr. Erin Richman, who works in the office of Student Affairs. She described her goal in the address while speaking to The Red & Black: "For me this was about inspiring students to go beyond themselves and think about how they can give back. How the lessons they've learned as students at UGA can be tools as they move through life, and to give them some laughter and hopefully inspiration."
The College Fix reached out for comment to Lee Fowler, administrative assistant for UGA's LGBT resource center. Fowler did not respond.
Other Lavender Graduation ceremonies have featured various elements tailored to LGBT students. At Virginia Commonwealth University's 2016 ceremony, graduates received rainbow cords as part of their graduation regalia, while UNC's Lavender Graduation offers an "LGBTIQ Advocacy Award" as part of the ceremony. Many Lavender ceremonies, such as the one at Otterbein University, are open to "allies" of the LGBT community, as well.
MORE: Public University Hosts, Funds Special Ceremony For Homosexual Grads
MORE: Black Harvard students to host blacks-only graduation event
Like The College Fix on Facebook / Follow us on Twitter
IMAGE: Shutterstock