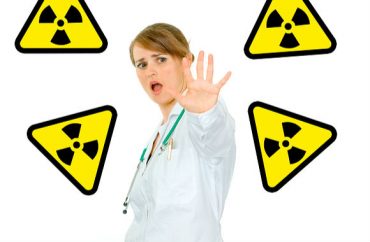 UPDATED
Grading system a 'prelude to sexual harassment' too
A New York law that was "designed to increase the chances of a guilty finding" in campus sexual-assault cases was recently used to warn a Brooklyn College professor about his syllabus, according to the co-author of a book on the Duke University lacrosse rape case.
Brooklyn College History Prof. KC Johnson told The College Fix that his colleague David Seidemann, who teaches geology, may not be the last unintended victim of the so-called Enough is Enough law.
Whether lawmakers or Democratic Gov. Andrew Cuomo realized it, the law has "dramatically increase[d] the power of campus Title IX offices, which (as we saw in the Seidemann case) can then manifest itself in unusual ways," Johnson wrote in an email.
Two academic-freedom organizations are following the situation, The Fix has learned, though neither is formally investigating.
'The triangles are the problem'
Last week Seidemann said he was nearly fired for a phrase from his syllabus that was interpreted "as a prelude to sexual harassment," in a post for Minding the Campus.
The syllabus informed students that "class deportment, effort etc" would count toward 10 percent of their grades, "applied only to select students when appropriate."
MORE: Law professors line up against New York's new campus sexual-assault law
That wasn't the end of it. Seidemann found himself in more hot water for a section of the syllabus that warned students: "This classroom is an 'unsafe space' for those uncomfortable with viewpoints with which they may disagree: all constitutionally protected speech is welcome."
Seidemann wrote that he only learned about "the charges brought against me" for the syllabus after the administration had reached its findings.
"At the direction" of the administration, Seidemann's departmental chair told him to get rid of the "deportment" grading line because it was sexual in nature, and to remove the sardonic "warning triangles" he had used instead of quote marks around "unsafe space."
According to Seidemann, he never learned what was wrong with triangles – the chair simply told him "the triangles are the problem" – though he suspects an administrator associated them with "the pink triangles that the Nazis made gays wear.
"I wonder how long the administrators deliberated before deciding that the clip art street signs I'd included in my syllabus weren't Nazi symbols," Seidemann continued.
Dealing with the 'director of diversity investigations'
Seidemann told The Fix in an email that the administration "kept me in the dark both during deliberations and after the fact," a breach of the due process he is owed as a faculty member. (In his Minding the Campus post, Seidemann credits his tenure with protecting him from "Kafka-like trials at a PC college.")
After asking his chair who initiated the investigation into his syllabus, Seidemann wrote in his post that Brooklyn College's "director of diversity investigations" reached out to him for a meeting.
MORE: Cussing is sexual harassment at Louisiana State
When Seidemann asked for a redacted copy of the complaint, the offices involved in the investigation and description of the procedures and recommended actions in response to the findings, the director responded that there were no charges and that his office hadn't investigated the professor, according to Seidemann.
Following "further explanation" from his chair, Seidemann said he came to believe the diversity official was in fact responsible for the complaint about his syllabus.
We're getting a #NormanRockwell vibe from this 1950 photograph of campus. Lovely colors all-around. #tbt #brooklyncollege #vintage #brooklyn pic.twitter.com/ot3y1YfTRF

— Brooklyn College (@BklynCollege411) September 29, 2016
"In the last email that I received from the Diversity Investigations Director – after I discovered his office had issued the directive to my chair despite his denials – he stated he considered the matter closed," Seidemann told The Fix. "After that, neither his office nor my chair contacted me about the issue."
MORE: Campus feels 'unsafe' after pink-triangle 'Safe Zone' posters torn down
This is the first time a professor has faced these issues at the campus, but there was a new college official who presided over the Seidemann investigation, Prof. Johnson told The Fix.
He credited the "Enough Is Enough" law, signed by Gov. Cuomo last year, with enabling the investigation. The law "requires all colleges to adopt a set of comprehensive procedures and guidelines, including a uniform definition of affirmative consent, a statewide amnesty policy, and expanded access to law enforcement."
A federal directive wreaks havoc on professors
The American Association of University Professors has not "launched an investigation into this case," the group told The Fix, but "a public announcement and information will be available."
AAUP censured Louisiana State University for firing a professor on grounds of classroom sexual harassment – using swear words and telling sex jokes as part of her pedagogical style. LSU claimed that not firing Teresa Buchanan could get the school investigated by the Department of Education's Office for Civil Rights (OCR) for creating a "hostile learning environment."
Buchanan later sued LSU in a proxy fight against the government's broad definition of sexual harassment.
The Foundation for Individual Rights in Education, which represented Buchanan in her LSU lawsuit, said the Seidemann investigation is yet more evidence that "faculty and students facing serious charges" must be presented with the charges "so they can formulate a defense. They should also have the right to counsel, and the ability to cross-examine their accusers."
FIRE blamed OCR's "overly broad" definition of sexual misconduct, "which can encompass a range of constitutionally protected speech," and its threat that "institutions will lose federal funding if they fail to thoroughly investigate all Title IX sexual misconduct claims."
MORE: Columbia faculty worried they could be railroaded under Title IX
Prof. Johnson told FIRE the "secret investigation" was "frightening" because it stretched Title IX to "cover areas it couldn't conceivably cover … By that rationale, anything could be considered a violation of Title IX."
Director of Diversity Investigations Patricio Jimenez referred The Fix on Monday to a public-relations staffer, Jason Carey. Media Relations Manager Ernesto Mora had earlier told The Fix to contact Carey and Keisha-Gaye Anderson for comment, but neither responded.
Carey told Inside Higher Ed that though Seidemann wasn't investigated by the Title IX office, "somehow" the syllabus was reviewed by "university counsel, which determined that he was not guilty of violations of Title IX."
UPDATE: Director of Diversity Investigations and Title IX Coordinator Patricio Jimenez responded to a request for comment Monday morning, referring The Fix to a public-relations staffer who had previously not responded to The Fix. The article has been amended accordingly.
MORE: Professor beats Title IX claims over 'sexual paranoia' essay
Like The College Fix on Facebook / Follow us on Twitter
IMAGE: Alliance/Shutterstock, saebaryo/Flickr, Equality Michigan/Flickr