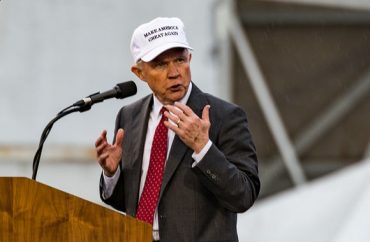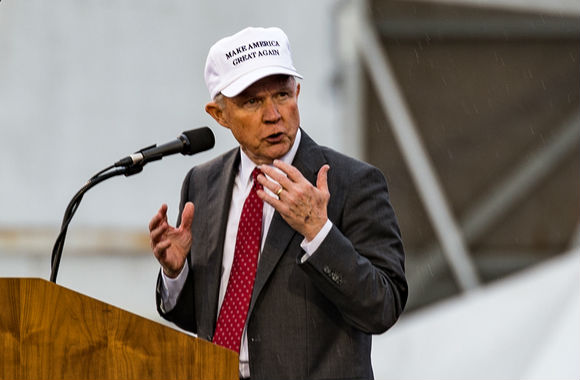 Stop tolerating the 'heckler's veto,' attorney general tells students
Free speech advocacy groups have a new ally: the Trump administration. But not all of them want the allyship.
The Justice Department filed a "statement of interest" in a lawsuit against a public college in Georgia that slapped an evangelical student with a "disorderly conduct" charge for proselytizing outside the tiny campus free speech zones, which require reservations and prior review from administrators.
In a Tuesday release, the department agreed that the restrictions placed on Chike Uzuegbunam – including a prohibition on speech that "disturbs the … comfort" of people on campus – violated his First and Fourteenth Amendment rights:
The Justice Department argues the college's speech policies were not content-neutral, established an impermissible heckler's veto, and were not narrowly tailored to achieve a compelling government interest.
The Foundation for Individual Rights in Education said Tuesday that DOJ entered a slam-dunk case, summarizing Georgia Gwinnett College's defense of its policies:
[I]t should unconstitutionally restrict speech, so it should therefore be allowed to enact further unconstitutional restrictions on speech.
Attorney General Jeff Sessions said in the same DOJ statement that a "national recommitment to free speech on campus and to ensuring First Amendment rights is long overdue."
Sessions gave a speech on the subject at Georgetown Law Center Tuesday, invited by Randy Barnett, the libertarian law professor who has publicly advocated for more politically balanced law school faculties.
He urged students to "realize how precious, how rare, and how fragile" are their rights to freedom of expression in the global context, citing several examples of student speech that was punished, sometimes with the force of law, on college campuses in the past few years:
This troubling incident could have occurred under any number of tyrannies where the bedrock American ideals of freedom of thought and speech have no foothold.  But this incident happened right here in the United States, just last year, at a public college in Battle Creek, Michigan [Kellogg Community College]. A state official actually had students jailed for handing out copies of the United States Constitution.
Sessions cited the Foundation for Individual Rights in Education's recent survey on campus speech policies, 40 percent of which "substantially infringe" constitutionally protected speech,
He savaged Pierce College for banning the distribution of Spanish-language U.S. Constitutions outside the 616-square-foot speech zone, implying that it violated 1969's Supreme Court ruling in Tinker, which found even high school students "don't shed their constitutional rights at the school house gates."
Attorney General Sessions Speaking on the Importance of Free Speech on College Campuses https://t.co/HDV69Hmcf3 pic.twitter.com/JkLE63LNsK

— Justice Department (@TheJusticeDept) September 26, 2017
The attorney general next went after college administrators who cancel the speech of others if it draws "a threat that it will be met with protest," succumbing to the "heckler's veto" at institutions including Middlebury College, Brown University and Virginia Tech.
He reached back 54 years to a Supreme Court decision on desegregation of public facilities, Watson v. City of Memphis, which said "constitutional rights may not be denied simply because of hostility to their assertion or exercise."
Sessions couched his defense of free speech as going far beyond the First Amendment:
Our legal heritage, upon which the Founders crafted the Bill of Rights, taught that reason and knowledge produced the closest approximation to truth—and from truth may arise justice.  But reason requires discourse and, frequently, argument.  And that is why the free speech guarantee is found not just in the First Amendment, but also permeates our institutions, our traditions, and our Constitution.

The jury trial, the right to cross-examine witnesses, the Speech & Debate Clause, the very art and practice of lawyering—all of these are rooted in the idea that speech, reason, and confrontation are the very bedrock of a good society.  In fact, these practices are designed to ascertain what is the truth.  And from that truth, good policies and actions can be founded.
Inside Higher Ed reports that both students and professors at Georgetown Law protested Sessions outside the event venue, where the audience was limited to invitees of Barnett's five-year-old Center for the Constitution and his own current students.
Writers' advocacy group PEN America, which does not believe campus free speech faces serious threats, scolded Sessions for his "cursory acknowledgment" of "hate speech and hate crimes" on campus.
In a statement reprinted by Inside Higher Ed, PEN America spoke sympathetically of those who "understandably fear that menacing speech is spreading untrammeled and can morph into dangerous action":
We agree with Jeff Sessions that the defense of free speech rights on campus must be uncompromising, and that neither the heckler's veto nor considerations of political correctness should be allowed to silence controversial speech. … But we note that calls to silence free speech on campus in recent months have derived from both the left and the right and regret that the attorney general confined his examples to left-leaning groups protesting voices considered more conservative.
1. We take issue with @jeffsessions' cursory acknowledgment of incidents of #hatespeech & #hatecrimes in his speech to @Georgetown today

— PEN America (@PENamerican) September 26, 2017
FIRE released another cautious statement that did not celebrate the polarizing attorney general so much as recognize that he "joins a bipartisan chorus of public officials who have expressed support for free speech on campus in recent years."
The civil liberties group noted Sessions favorably cited its research and litigation and promised DOJ's ongoing support for students that seek legal redress for college suppression of their speech.
Read DOJ's release and statement of interest, Sessions' prepared remarks, Inside Higher Ed report and FIRE's statements.
IMAGE: Brad McPherson/Shutterstock
Like The College Fix on Facebook / Follow us on Twitter