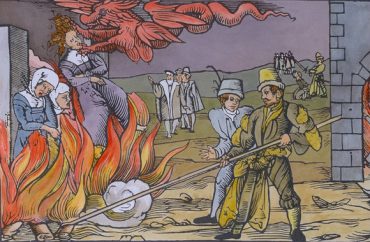 Due process for black students is a problem for Know Your IX
When the inquisitions end, the inquisition cheer squad becomes the jeer squad.
Trump administration officials in the departments of Education and Justice told a gathering of college attorneys this week that they aren't going to search indefinitely for Title IX and other civil rights violations if the evidence isn't there.
Inside Higher Ed reports that acting Office for Civil Rights chief Candice Jackson and her Justice counterpart Thomas Wheeler told lawyers they will enforce civil rights "less confrontationally and more cooperatively" than their predecessors, who turned previously low-profile investigations into show trials:
Many college and university officials felt overregulated by the Obama administration, and have expressed interest in seeing that oversight eased. But few if any college administrators can afford to be seen as advocating for more latitude that might appear to come at the expense of their students — in the form, say, of less protection for students from sexual assault, which they would roundly oppose. …

"We will reorient ourselves at OCR as a neutral, impartial investigative agency," Jackson said.

"We feel as an administration, and particularly Candice and I feel, that it is very, very important to adopt these positions, work these issues through in a collaborative approach with the people out there in the field," Wheeler said to growing applause.
Tom Wheeler of @CivilRights and Candice Jackson of @usedgov at #nacua17 with @NACUAtweets president Kathleen Santoro pic.twitter.com/jXQMXFAueZ

— Dennis Cariello (@EduCounsel) June 27, 2017
MORE: University threatened witnesses for accused black athletes
Jackson said the shop led by her predecessor Catherine Lhamon – now the crusading and interventionist chair of the U.S. Commission on Civil Rights – played "gotcha" with colleges, set out to "punish and embarrass" them, treated "every complaint as a fishing expedition" that wouldn't end until a violation was exposed – and deprived complainants of justice:
That expansive approach, combined with OCR leaders' disinclination to let investigators in the agency's regional offices exercise their judgment, Jackson and Wheeler argued, created a huge backlog of cases, keeping colleges — and the students who brought the complaints as well as those accused — in limbo for "months if not years."

"I've heard from activists on all sides that they no longer recommend going to OCR because the long investigations mean that an OCR complaint is virtually worthless in terms of actually correcting a violation for a complainant," Jackson said, repeating several times: "Justice delayed is justice denied."
Crucially for colleges that have erred in favor of accusers in the face of bullying from Lhamon, Jackson said her office will stop treating "subregulatory guidance" such as 2011's seminal "Dear Colleague" letter on Title IX as "binding mandates."
The lawyers apparently loved it: Inside Higher Ed notes Lhamon was "roundly booed" when she spoke to the National Association of College and University Attorneys several years ago.
MORE: Female student violates guy's consent, he's suspended for rape
The co-founders of Know Your IX, an advocacy group that attacks due process for accused students, took to the pages of The Washington Post to shame the new sheriffs at Education and Justice for ending the witch hunts the white women whipped up disproportionately against students of color.
Dana Bolger (below), now a Yale Law student, and Alexandra Brodsky, a lawyer at the National Women's Law Center, actually bragged about crashing the Department of Education building "with a bullhorn" and demanding the department overturn one of its long-held norms, that it doesn't publicly accuse colleges until it concludes an investigation:
With investigations kept secret, the public couldn't understood the scale of the campus sexual assault problem or universities' reluctance to address it directly, and students were left in the dark about investigations at their own schools.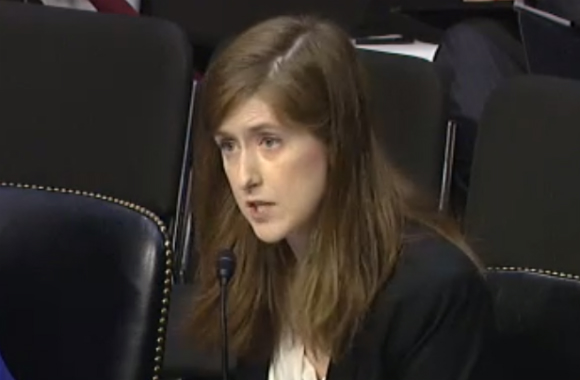 They portrayed the Obama administration as initially reluctant to use its bully pulpit against schools for which no violations had yet been found in open-ended and expensive investigations:
As we learned from our own grass roots research in the months before our 2013 protest, college students rarely even knew their schools were under investigation until we forced the government to disclose open cases. As a result, the Office of Civil Rights often missed the opportunity to hear from survivors with similar experiences to the complainant; because those survivors had no idea their schools were under investigation, they didn't realize they should come forward to speak about how their own assaults were mishandled.
MORE: 'The rate of sanctions against male students of color is unreasonably high'
By "survivors" they mean accusers whose allegations had not yet been adjudicated. Bolger and Brodsky portrayed the Obama administration's guilty-until-proven-innocent list as a matter of transparency:
By informing students and their families about schools under investigation, the Obama administration simply made accessible information to which the public is already entitled under the Freedom of Information Act, information crucial for survivors seeking help and change when their schools violate their rights. …

Jackson's comments earlier this week offer a promise to university administrators: Under my watch, we'll be nicer. We won't embarrass you. We can all get along. But the government's job isn't to protect university administrators from public relations headaches; it's to protect students.
And under Know Your IX's advocacy, the government threatened to take federal funds from any college that ran a fair process against an accused student, particularly those who are black.
Now that civil rights are being prioritized again, the inquisition jeer squad is apoplectic.
Read the Inside Higher Ed report and Post op-ed.
MORE: African student expelled, deported for one minute of kissing
MORE: Accused student's life at risk if he's sent back to Syria
Like The College Fix on Facebook / Follow us on Twitter
IMAGE: Everett Historical/Shutterstock, Senate HELP Committee screenshot