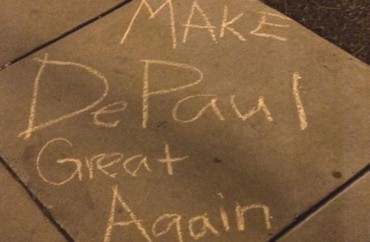 Chalking threatens our tax-exempt status, DePaul warns
Chalk messages triggered not just students but faculty and staff at the nation's largest Catholic university.
DePaul University's Black Student Union accused its College Republicans (CRs) of a hate crime because they organized the April 4 chalking outside the Student Center, with messages that alluded to Republican presidential frontrunner Donald Trump and praised police and Israel.
Though BSU representative Michael Lynch told The College Fix that he filed a hate-crime report against the CRs, both the DePaul administration and Public Safety department told The Fix they had not received any such report from Lynch.
In a campuswide email Monday obtained by The Fix, Vice President for Student Affairs Eugene Zdziarski said "many students, faculty and staff found the chalk messages offensive, hurtful and divisive."
They also violated campus regulations by endangering DePaul's tax-exempt status, he said – a claim that has been repeatedly challenged by a free-speech legal advocacy group.
Wide latitude to ban chalking
The DePaul CRs' event is part of a recent campus movement known on Twitter as #thechalkening, in which students have chalked messages associated with conservatives – as simple as "Trump 2016" and as provocative as "abortion is murder."
Such messages have angered students and aggravated administrators at Emory University, the University of Kansas, University of Tennessee-Chattanooga, University of California-Santa Barbara and University of Michigan, among others.
RELATED: #TheChalkening: Forum set to bemoan mean chalk, more cops called over easily erased Trump taunt
The DePaul chalking included Trump allusions such as "Make DePaul Great Again," "Build That Wall" and "Trump Train 2016." They also referenced the pro-police Blue Lives Matter movement, support for Israel and other presidential candidates.
The university's grounds crew removed the CRs' chalkings on Tuesday morning. DePaul claimed that was part of routine maintenance, but also noted that "some among the crew considered the messages inflammatory," The DePaulia reported.
The Student Centers Policy and Procedure Manual, last updated in February, gives DePaul wide latitude in how to interpret chalked messages.
Page 33 says chalking is allowed outside of the Student Center, but messages "may not contain profanity or may not abuse, assail, intimidate, demean, victimize, or have the effect of creating a hostile environment for any person based or group of people [sic] on any of the protected characteristics in the University's Anti-Discriminatory Harassment Policy."
RELATED: Emory University snowflakes 'in pain' after pro-Trump graffiti appears on campus
Some students took to DePaul's Class of 2018 Facebook page and openly mocked the students whose feelings were hurt by the words such as "Trump" and "Build that Wall."
DePaul CRs President Nicole Been immediately took to Twitter to criticize the school for its response.
Thanks @DePaulU for limiting the free speech of all those who disagree with your agenda. Chalk is all washed away by this morning.

— Nicole Been (@Nicole_been) April 5, 2016
The fact that chalk and republican ideas are now triggering to college students shows just how far left this country has gone.

— Nicole Been (@Nicole_been) April 6, 2016
BSU apparently invited the CRs to a face-to-face meeting to discuss their differences, but after the CRs proposed a time, BSU representative Lynch withdrew the invitation "after consulting with different student leaders and examining your group's reaction and behavior," according to emails obtained by The Fix.
Lynch said his group would follow "DePaul policy and procedure regarding hate speech incidents on campus."
Following an April 6 group meeting, BSU distributed a document with the apparent intent of getting the CRs in trouble for the chalking.
RELATED: Trump Scare spreads from Emory to University of Kansas as new chalkings appear on campus
It tells members how to file complaints with DePaul based on code violations including harassment and "disorderly behavior," but also directs them when to file complaints (April 11 between noon and 4 p.m.) and what to include ("your personal experiences with discrimination and racism on this campus").
Directly under a section on "Student Organization Accountability" that describes how campus groups and their members can be punished, the document describes the CRs and includes images of the chalking.
Lynch also posted in the Class of 2018 Facebook page, accusing the CRs of "campaigning for a political candidate" and calling the chalked messages "racist and xenophobic."
The DePaul CRs responded to the negative attention by starting a fundraiser to bring anti-feminist gay speaker Milo Yiannopoulos to campus and "Make DePaul Great Again." His "Dangerous Faggot Tour" has divided campuses.
Stop using your tax-exempt status to justify censorship
Vice President Zdziarski's message to the community Monday was a shot across the bow against the CRs and anyone considering similar chalking.
He said the chalkings had to be evaluated in the context of "significant racial tension in our country and on college campuses," and in how they affect DePaul's "inclusive and supportive educational environment."
RELATED: UT-Chattanooga student senator pressured to resign over pro-Trump chalking
As a 501(c)3 nonprofit organization, DePaul is also "significantly limited in the types of political activities it can promote or support" without losing its tax-exempt status, Zdziarski wrote.
"In practice, this means no partisan political advertising may be conducted on campus that could in any way be attributed to DePaul University."
Georgetown Law Center made that same claim in blocking campus supporters of Democratic presidential hopeful Bernie Sanders from distributing campaign material on campus – a claim that got scrutinized at a recent congressional hearing on campus speech.
After rebuking Georgetown Law and American University for this interpretation of their tax-exempt status, the Foundation for Individual Rights in Education released its "Policy Statement on Political Speech on Campus 2016."
RELATED: Provocative chalk messages at UC Santa Barbara prompt administration crackdown, police probe
It says the IRS has noted that "[t]he actions of students generally are not attributed to an educational institution unless they are undertaken at the direction of and with authorization from a school official."
That means, according to FIRE: "As long as partisan political activity on campus by students and student groups is neither privileged nor hindered by the institution, and as long as partisan political speech by students and faculty does not overcome the strong presumption that they do not speak for the institution, then the tax-exempt status of universities and colleges will not be affected."
RELATED: Georgetown Law prohibits students from engaging in political speech 'over the internet'
RELATED: House Republicans to college students: Have you been censored? Let us know. Email us!
Like The College Fix on Facebook / Follow us on Twitter
IMAGE: DePaul College Republicans/Facebook