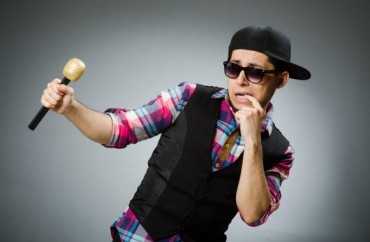 Learn about 'hip hop' and 'leisure services'
At a time when some colleges are implementing their first diversity requirement for graduation, the University of Illinois at Urbana-Champaign is doubling its existing requirement.
At a public meeting last week, the Academic Senate voted to require students entering the university in 2018 to take one class each in "non-Western culture" and "U.S. minority culture." Currently students must take one course that satisfies either of those categories.
The estimated size of 2018's freshman class is 7,400 students, according to the proposal by the university's Committee on Race and Ethnicity (CORE) that passed the senate.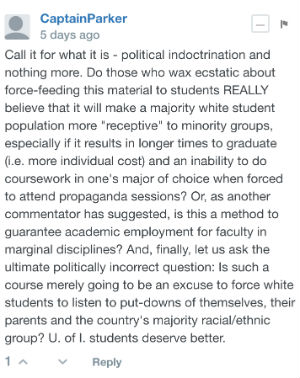 Members of CORE justified the doubled requirement by citing police shootings of young black people, as well as recent events on campus that include pro-Donald Trump chalked messages, swastikas and a university employee who left a noose on a table in a work area, according to CBS News.
In his testimony CORE co-chair Ronald Bailey, head of the Department of African-American Studies, cited an April 29 letter from interim Chancellor Barbara Wilson and interim Provost Edward Feser.
That letter said the university "must condemn acts like the recent chalking attacks and the noose that are intended to intimidate particular groups that do not advance legitimate discourse and debate."
Bailey also cited research from the University of Wisconsin-Madison that showed its ethnic studies requirement played an "important role in bringing awareness of diversity" to the campus.
Gender and sexuality courses count if they have minority themes
The proposal suggests that too few students are choosing the option for U.S. minority culture of their own volition.
"Given the multicultural, multiracial nature of U.S. society, as well as the race relations/diversity climate on campus and in society at large, CORE firmly believes that all undergraduate students at the university need to take a U.S. minority culture course as a requirement for graduation," it reads.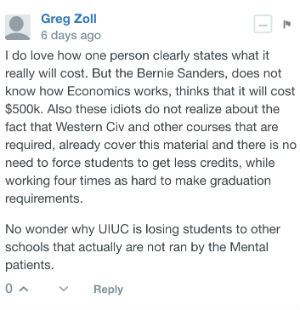 The requirement would be phased in over four years, with about a quarter of a given freshman class and half of a given transfer class taking a course each year.
RELATED: UCLA Bruin Republicans protest diversity requirement, launch #LetUsChoose slogan
All of the major colleges within the university and numerous campus departments have endorsed the proposal, The News-Gazette reported. It has been in the works for two years.
The proposal envisions that approved courses will "substantially address the experiences, conditions, and perspectives of U.S. racial minority populations," though courses on sexuality, gender, religion and disability can also qualify as long as racial minorities are "significant" themes.
Engineering students get shafted
Business Professor Steven Michael, who also serves on the university's Senate Educational Policy Committee, was one of the few to speak out against the proposal, citing its cost and burden on students in "highly prescribed programs."
Michael said the initial proposal called for 26 TAs at a cost of approximately $750,000, which means the new figure of 73 TAs could cost $2 million. "That exceeds the budgets of most departments and some colleges" at UI, he said.
The new requirement would harm students in programs such as engineering and agriculture, he said: "I have asked all the engineers I know. None of them can accommodate an additional course in their schedule without taking an additional semester."
Even Engineering Dean Andreas Cangellaris agreed with this assessment in his "letter of support," Michael said using air quotes.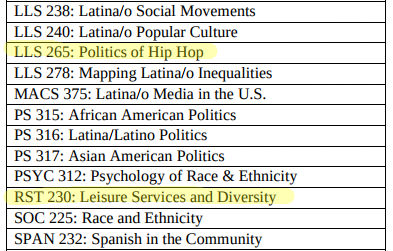 Regarding the claim by supporters that some courses will satisfy both non-Western and U.S. minority culture categories, Michael said "if the goal is to get people to take courses in particular areas when we have double-dipping, that simply encourages them to game the system rather than choose particular topics."
RELATED: Massive diversity requirement planned for University of Missouri, taught by 'army' of TAs
Those who teach qualifying courses should simply market them to students as an option, but this proposal "would be a coercion rather than a persuasion," Michael said. "I personally think persuasion would be more effective."
Listed among several "potential" courses that could qualify for the requirement are "Politics of Hip-Hop" and "Leisure Services and Diversity."
Way cheaper than that
Twenty minutes later and without naming Michael, an administration official said the cost would be a fraction of Michael's estimate.
Chuck Tucker, vice provost for undergraduate education, told the audience the "rough upper bound" was $500,000 for the full complement of TAs under consideration.
He backed this estimate by saying "the overwhelming majority" of cultural studies classes are already certified in at least one other general-education category.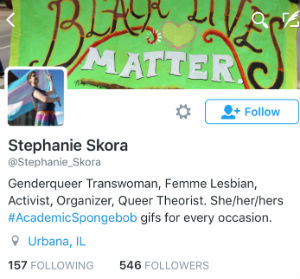 Tucker said the term "double-dipping" suggests that "somehow a student is getting away with something," but the general-education board has used its judgment to decide when courses qualify in more than one category.
Others defended the proposal in moral terms.
Sophomore Vanessa Garcia, a political science and Latino studies major, said that "ignoring the necessity of this proposal is ignoring the fact that the most repetitive and prominent issues in this entire nation are rooted in misunderstandings of race, ethnicity, gender, religion, and sexuality."
"This is a necessary proposal," said Stephanie Skora, a fifth-year gender and women's studies major. "Our campus needs this general education requirement."
RELATED: Evangelical college imposes diversity requirements as controversial black professor leaves 
Like The College Fix on Facebook / Follow us on Twitter
IMAGES: Shutterstock, Daily Illini screenshots, University of Illinois video screenshot