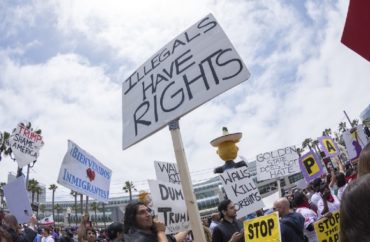 California academics want to see state universities hire illegal immigrants
California state universities likely do not have the legal ability to hire illegal immigrants, according to an analysis by an immigration expert who served in President Donald Trump's administration.
George Fishman, a legal fellow with the Center for Immigration Studies, told The College Fix on a phone interview that federal law prohibits public universities from hiring illegal immigrants. He was the acting chief counsel for U.S. Citizenship and Immigration Services under President Trump. He also served the Republicans in the U.S. House for two decades as a counsel advising on immigration issues.
Fishman wrote an analysis of the topic for CIS and expanded further on his reasoning in an interview with The Fix.
He wanted to respond to claims pushed by a letter organized by the University of California Los Angeles' Center for Immigration Law and Policy.
The letter, drafted by UCLA law professors Hiroshi Motmura and Ahilan Arulanaltham, argued that the Immigration Reform and Control Act allowed for state universities to hire illegal immigrants, particularly students.
Fishman told The Fix the "basis of their argument isn't so much immigration law, it is based on constitutional separation of powers laws between the states and the federal government."
The signers inaccurately argue, according to Fishman, that Congress did not make states subject to the immigration laws.
"One argument is because in IRCA in 1986 when Congress said that all employers are subject to these civil and criminal penalties to employer sanctions, Congress didn't specifically state when states are acting as employers, states are also subject to them," Fishman said, summarizing the proponents' arguments.
"Congress did not feel the need to specifically state the obvious, that states (when acting as employers) are covered by employer sanctions just as are any other employers," Fishman wrote in his analysis. "States at the time were simply not falling all over themselves to employ illegal aliens."
The other flawed argument is a "constitutional separation of powers argument," Fishman said. This argument is "that when states have the inherent power as sovereigns [they can] select their officials."
In his written report, the former DHS official went through six different federal laws that the professors claimed give public universities the authority to hire illegal immigrants and provided detailed responses.
Fishman concluded his analysis:
If California, or another state, ever authorizes state entities to employ aliens not authorized to work under federal law, and the federal government challenges the decision, I would predict that IRCA will be found to encompass state entities within its employer sanctions regime. The question as to whether the states might be found to have a constitutional right to hire public university professors is the more interesting question.
Neither University of California Berkeley nor the University of California Los Angeles responded to requests for comment from The College Fix about the possibility of them hiring illegal immigrants.
MORE: Expert warns Biden immigration rule will harm American graduates
IMAGE: Chad Zuber/Shutterstock.com
Like The College Fix on Facebook / Follow us on Twitter