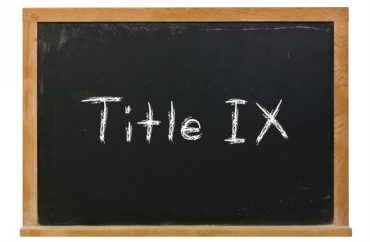 'I learned my rights' from Obama letter that imposed new rules
Supporters of due process in campus sexual-misconduct proceedings are hopeful that the Trump administration and its new secretary of education, Betsy DeVos, will loosen some of the government's rules on how schools conduct such proceedings (disclosure).
Those who advocated the provisions that were first enforced by the Department of Education's 2011 "Dear Colleague" letter (DCL), however, are warning that Title IX may lose its teeth if the DCL is scrapped.
Know Your IX, a "survivor- and youth-led" nonprofit that targets sexual and dating violence in schools, goes so far as to claim that repeal "would be devastating" to reported victims of sexual assault.
It would also make campuses less safe and allow schools to ignore their "legal obligations" under Title IX, according to Alyssa Peterson, a member of Know Your IX's policy team and former policy analyst for Vice President Joe Biden, the primary mover behind the Obama administration's sexual-violence policy.
"Campuses across the country have become safer and more equal in the five years since the Dear Colleague Letter was issued," Peterson told The College Fix in an email.
Legal obligations already existed – just new enforcement
The nonprofit Stop Abusive and Violent Environments (SAVE) recently launched a campaign to repeal the DCL, which it says is responsible for "trivializing the severity of rape," "impairing the credibility of future victims" and "undermining" the presumption of innocence.
Its campaign will include press releases, dozens of radio interviews, and lobbying visits to over 20 states, SAVE President E. Everett Bartlett told The Fix.
The Obama administration issued the letter to colleges on the day President Barack Obama announced his bid for re-election. By its own description, the DCL "explains schools' responsibility to take immediate and effective steps to end sexual harassment and sexual violence."
MORE: 'End Kangaroo Courts' on campus, restore 'rule of law'
The letter has been criticized for ordering schools to minimize the due process granted to accused students and prioritizing campus investigations of alleged criminal behavior over police investigations.
But for Peterson, the DCL is personal.
"When I was assaulted in the fall of 2011, I didn't know that my school [Georgetown] was required to take action under Title IX to protect my access to education," she told The Fix. "As with many survivors, I learned my rights through the Dear Colleague Letter."
"The path to liberation isn't short & it surely isn't smooth, but we are confident we will win" #SurvivorLoveLetterhttps://t.co/ea2sWm0bKD pic.twitter.com/qaX4fAuoVT

— Know Your IX (@knowyourIX) February 14, 2017
She also appreciates the letter because it shows the federal government's commitment to stopping gender-based inequality on campus.
"While the Dear Colleague Letter did not create these legal obligations – they arise from decades of legal precedent and federal regulation – the document signaled that the federal government took the equality of students seriously and that it would vigorously enforce Title IX," Peterson said.
She did not respond to followup questions about how the DCL has made campuses safer and what specific legal precedents and regulations underlie the DCL's provisions.
There's precedent, but 'substance' is problematic
While the government did not mandate the "preponderance" evidence standard in campus proceedings before the DCL, "[t]here is indeed legal precedent requiring colleges and universities to address sexual harassment and sexual assault on campus," a critic of the letter told The Fix in an email.
Samantha Harris, vice president of policy research at the Foundation for Individual Rights in Education, traced the obligation to a 1977 ruling by a federal court that extended the "overt sex discrimination" prohibition in Title IX.
If you're tuning into today's #DeVos hearing, you might hear about the 2011 "Dear Colleague" letter. Our FAQ: https://t.co/GXI8PjQp4F

— FIRE (@TheFIREorg) January 17, 2017
Colleges would now be at risk "for failing to respond to allegations of sexual harassment by professors," she said.
The expansion continued through the 1990s, when courts had ruled that Title IX required schools to respond to claims that student-on-student sexual harassment and assault "had created an environment so hostile as to amount to discrimination on the basis of sex," Harris said.
The basic obligation of schools to address sexual harassment isn't what raises due process concerns for FIRE, she cautioned. Rather, the "substance of some of those prescriptions" in the DCL have an effect on free speech and due process.
MORE: Attacks on DeVos show how 'unmoored the campus rape debate' is
Administrators will be confused
Know Your IX's Peterson believes the repeal of the DCL would confuse schools even more than leaving it in place, despite the proliferation of lawsuits against colleges based on their implementation of the regulatory guidance.
"Withdrawing the guidance would be devastating to survivors, while doing little to alter schools' legal obligations," she said: Administrators "have relied upon it to understand their responsibilities."
She also disagrees that the DCL has hurt due process on campus.
"There is no conflict between, on the one hand, our recognition that student victims of violence continue to face unconscionable barriers and administrative indifference, and, on the other, our conviction that schools must provide procedural protections for all students."
Direct action works. https://t.co/3qOLEzHS42

— Know Your IX (@knowyourIX) February 10, 2017
Other groups that defend the rights of alleged victims have championed the DCL.
When the guidance was released in 2011, the American Association of University Women released a statement saying "Title IX Protects Women From Sexual Violence, Too."
In a campaign intended to sway then-nominee DeVos, the nonprofit End Rape on Campus called the letter "key guidance for all educational institutions" for dealing with reported circumstances of sexual violence.
MORE: Due process questions stump witnesses at sexual assault hearing
In response to high-profile criticism of the process by which the DCL was issued, the National Women's Law Center released a statement last summer signed by 85 organizations in support of the department.
"The Department's Title IX guidance letters and enforcement have been vital in the effort to ensure that students are not discriminated against based on sex in school," they wrote.
AAUW and the American Council on Education, a critic of the Obama administration's method of conducting Title IX investigations, declined to comment to The Fix. End Rape on Campus answered a query but did not respond to followup questions.
The National Women's Law Center and SurvJustice, another group that favored the previous administration's approach, did not respond to queries. Neither did Diane Rosenfeld, a Harvard Law School lecturer whose research has been credited with "contributing" to the development of the 2011 letter.
MORE: Sexual-assault activists scare away Democrat from due-process bill
Like The College Fix on Facebook / Follow us on Twitter
IMAGES: CLS Digital Arts/Shutterstock, DianeRosenfeld.org screenshot