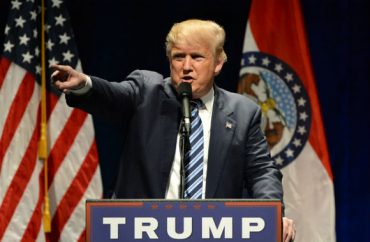 Institutions seemingly avoid Trump for their grad podium  
By the end of March in 2009, first-year President Barack Obama had already announced he'd be the commencement speaker for three prominent universities: a prestigious private institution, one of America's largest public universities and a U.S. service academy.
In contrast, President Donald Trump has so far only announced plans to address Liberty University, a Christian, conservative college in Lynchburg, Virginia. Liberty's president, Jerry Falwell Jr., was a stalwart supporter of Trump throughout the presidential campaign.
In 2009, President Obama spoke at the University of Notre Dame, Arizona State University and the United States Naval Academy. All three appearances were announced by the end of March.
It's already clear Trump won't speak at either of the two civilian schools Obama did that year, even though Notre Dame has a tradition of inviting newly inaugurated presidents to address its graduates.
Trump: Persona non grata on campus? 
Presidents have long been popular commencement speakers and have given an average of three graduation addresses annually since the beginning of Bill Clinton's presidency, according to FiveThirtyEight. They have traditionally addressed at least one service academy per year.
In his two-term presidency, President Obama gave a total of 24 commencement addresses, per FiveThirtyEight. He spoke at a wide range of universities that included public and private institutions, historically black colleges and universities and multiple service academies.
The White House Press Office did not respond to two emails from The College Fix regarding the amount of invitations President Trump has received so far. It's unclear he has or will receive the same amount of invitations as Obama, especially given the backlash Trump has already received from academia.
But Obama was the sixth president to speak at Notre Dame's commencement ceremonies and the ninth commander-in-chief awarded an honorary degree. Yet the prestigious Catholic university will sidestep its presidential tradition this spring.
Vice President Mike Pence will instead address the 2017 graduates. Notre Dame President John Jenkins said it was fitting for the university to recognize "a native son who served our state and now the nation with quiet earnestness, moral conviction and a dedication to the common good characteristic of true statesmen."
The university wouldn't tell Inside Higher Ed whether it considered inviting Trump.
"Notre Dame only announces commencement speakers who have accepted our offer to speak at commencement. We don't announce or speculate on who else may or may not have been invited or considered," a spokesman told the publication in an email.
Meanwhile, Starbucks Chairman and CEO Howard Schultz will give Arizona State University's commencement address this May. An email from The College Fix asking whether the university considered inviting Trump and might in the future went unanswered.
The Naval Academy hasn't yet announced its upcoming graduation speaker, the university said in an email.
Not welcome 
Scores of university leaders have spoken out against the Trump administration's immigration policies. Prior to the inauguration, thousands of feminist scholars denounced Trump and said they refuse to "comply" with him. At Notre Dame, some students protested the mere possibility that Trump might come to campus to address graduates.
Even at Liberty, a university that hosted multiple GOP presidential candidates throughout the presidential campaign as well as democratic socialist Bernie Sanders, The Washington Post reports some students aren't enthralled with Trump's impending address.
"It's disappointing," junior Dustin Wahl told The Post. "I think a commencement speaker is supposed to be someone students can look up to and respect and aspire to be like one day. And I don't think we live in a world right now where the president of the United States fits that criteria."
MORE: Notre Dame students voice dismay at Vice President Mike Pence as commencement speaker
Like The College Fix on Facebook / Follow us on Twitter
IMAGE: Gino Santa Maria/Shutterstock