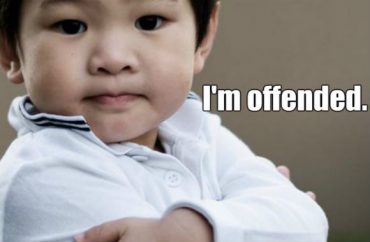 Despite raucous anti-Trump protests taking place all over the country — where, for example, "white America" is denounced and students are literally losing all their composure — when an instance arises of Trump supporters engaging in a seeming bit of celebratory gloating, well, that just cannot stand.
The Boston Globe reports that two Babson College students are under investigation after they drove through Wellesley College and allegedly "enagaged in actions that were 'racially offensive and gender demeaning.'"
Lawrence P. Ward, vice president of student affairs at Babson, said the men had driven by Wellesley's Harambee House, "which serves as the focal point for African-American students."
"It is important to understand that our students' behavior was experienced by many students of color and perceived by many others" as offensive, he wrote.
Hmm. "Perceived." And for some reason, neither Babson or Wellesley will say just what demeaning lingo was uttered.
[Babson president Kerry] Healey said reports indicate the two men "antagonized" students, and investigators will determine if any laws or standards were violated.

Babson officials did not identify the two students. Their names appeared in Internet postings, but the Globe is not naming them because they have not been criminally charged or identified or penalized by Babson administrators.

One of the Babson students declined to comment in a brief telephone interview Thursday; the other could not be reached.

MORE: UNC students walk out of class to protest Trump victory, 'white America'

A video that surfaced online purportedly showed the two men laughing about the case.

"We are officially banned from Wellesley College," one of the men said in the brief clip. "If we're caught there, we'll get arrested and subject to trespassing. Make America great again!"

Social media reports indicated the men had spit in the direction of Wellesley students and shouted bigoted remarks. Witnesses who contacted the Globe via e-mail Thursday could not immediately be reached for further comment.
The Babson duo were subsequently booted from their fraternity, and the attorney general's office was made aware of the incident "and [is] gathering more information." Thus far, however, "prosecutors have not received a formal complaint or launched an investigation."
MORE: Student loses it with Trump voter: 'You voted for a rapist!'
MORE: American U. students enraged by Trump win burn American flags
Like The College Fix on Facebook / Follow us on Twitter