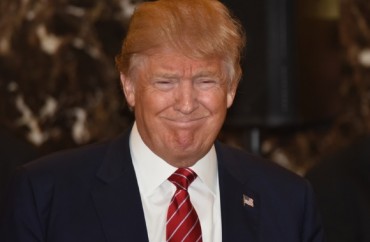 The latest Harvard Institute of Politics poll of 18- to 29-year-olds found that young Republicans' first choice in their party's presidential primary is Donald Trump.
The poll results, released Thursday, found that 22 percent of Republican respondents support Donald Trump, a 2-point lead over the next candidate, Ben Carson.
The poll was taken in November.
While it's nearly a dead heat between Trump and Carson, voters are more certain Carson is more qualified to be president when it comes to the two outsider candidates. Forty-three percent of Republican respondents said Carson was qualified to occupy the White House, compared to 17 percent who said he wasn't.
Conversely, young Republicans are much more divided on whether Trump is qualified. While 38 percent believe he is, nearly the same amount – 39 percent – disagreed and said he's not qualified to lead the United States.
The institute's bi-annual poll also found Bernie Sanders leads Hillary Clinton 41 percent to 35 percent among Democratic respondents.
Sixty-six percent of respondents said Sanders' identification as a socialist made no difference to them, whereas 24 percent said it made them more likely to vote for him.
"Only 9 percent were turned off by that label," said the institute's director of polling, John Della Volpe.
RELATED: Most millennials want ground troops to fight ISIS — but wouldn't enlist if needed, poll finds
RELATED: 'Young Outsiders' Voting Bloc Up For Grabs By Republicans, Study Says
The strong support for Trump and Sanders seems to highlight the unpredictability seen in the 2016 campaign so far. In the institute's spring 2015 poll, Sanders was polling at just 1 percent while Trump wasn't even listed as a possible candidate.
The support for the two outsider candidates, Della Volpe said, further indicates that millennials are becoming more polarized. Della Volpe said the youth electorate has shifted since Barack Obama received 66 percent of the youth vote in 2008.
"Every day that goes past 2009, young people look more like the rest of Americans," Della Volpe said.
To highlight this polarization, Della Volpe pointed to what he called the "wedge issue" of building a wall across the U.S.-Mexican border. Republican respondents favor building a wall, with 70 percent support compared to 68 percent of Democrats who oppose the idea.
As for the other Republican candidates, Marco Rubio and Ted Cruz captured 7 percent, closely followed by Rand Paul and Jeb Bush, each with 6 percent, the poll found. Carly Fiorina, Mike Huckabee and Rick Santorum each garnered support from 3 percent of those polled. The remaining candidates came in at 2 percent and 1 percent.
The full poll results can be found here.
RELATED: New 'Young Outsiders' Voting Bloc Wholly Rejects Welfare State, Poll Finds
Like The College Fix on Facebook / Follow us on Twitter
IMAGE: A. Katz / Shutterstock.com