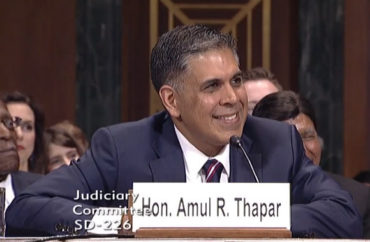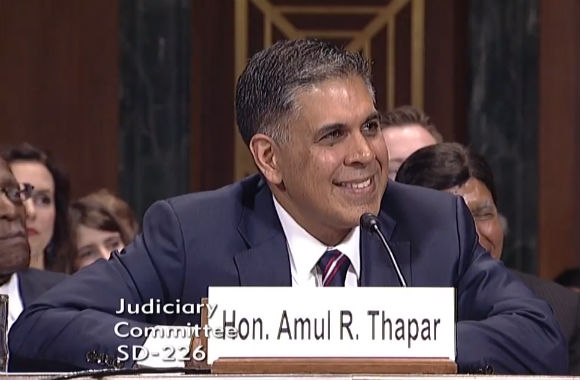 You can't discriminate against males to avoid litigation by females
When Supreme Court Justice Anthony Kennedy shocked America by announcing his pending retirement Wednesday, President Donald Trump's previously known shortlist for vacancies was hauled out again for public view.
That list is slightly more interesting now because of court rulings since Trump nominated Neil Gorsuch to replace the late Antonin Scalia a year ago.
The most interesting from our perspective is those from the 6th U.S. Circuit Court of Appeals, which has ruled in favor of students who took their colleges to court for alleged gender bias and due process violations in Title IX proceedings.
Judge Amul Thapar sits on that circuit courtesy of Trump's nomination (below), and he's on the shortlist to replace Kennedy. Here's why he's special.
Thapar took the lead in grilling a lawyer for Denison University during oral argument in one case late last year. The private Ohio university had expelled the plaintiff after his female sex partner accused him of nonconsensual sex, based on someone else allegedly spiking her drink so that she was too drunk to consent.
MORE: Thapar rips Denison for '1000 girls' remark in Title IX hearing
The school's lawyer made repeated blunders in oral argument, and Thapar showed her no mercy in responding:
She implied that colleges could discriminate against males so they wouldn't get sued by females. This was so stupid that it's surprising Thapar was the only member of the three-judge panel to rebuke her, for giving Denison a green light to discriminate for any reason.
She suggested that the university can judge a male guilty in order to protect others on campus from sexual violence. The context was an off-the-record comment allegedly made by the chair of the Title IX hearing panel, telling colleagues they must consider the "future of 1000 girls" in deciding how to rule.
Showing how quick on his feet Thapar is – a trait long appreciated in Scalia – the judge incredulously told the lawyer that he and his colleagues would "lose our minds" if she tried to defend a similar recommendation against a black accused student to protect white students.
The point is: You have to judge someone responsible for the action before you decide he's a threat to others. The lawyer, seeing no other options, moronically insisted that race and sex are different situations.
When the lawyer tried to change the subject – saying that even if the hearing panel showed gender bias, the appellate panel did not – appellate judge Thapar reminded her that appellate panels generally don't review facts of the case. Those are determined by the hearing panels – the very body accused of gender bias against the male student.
The oral argument suggested the verdict would be 2-1 against the university, and Denison smartly gave up before the 6th Circuit could set a damning precedent on anti-male bias in Title IX proceedings. That would have not only harmed Denison but its peers in the 6th Circuit jurisdiction of Kentucky, Ohio, Michigan and Tennessee.
If you want to hear Thapar in action in this case, check the snippets from oral argument shared by Brooklyn College Prof. KC Johnson. If you want to see him winsomely hit softballs from a sympathetic senator, watch below.
MORE: Denison gives up after '1000 girls' remark gets ripped apart in court
IMAGE: Senator Ben Sasse/YouTube
Like The College Fix on Facebook / Follow us on Twitter