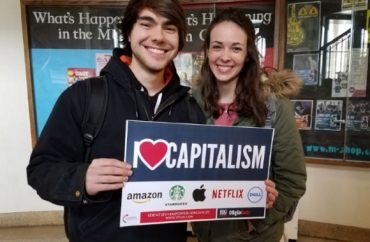 Two recent victories scored by the nationwide campus activism group Turning Point USA show the relatively young but growing organization is fighting back against efforts to shut its clubs down — and winning.
This week, a club the pro-capitalism group sought to form at a California campus was approved by administration after student government leaders voted to reject it. Last week, a Michigan university settled a lawsuit with Turning Point USA. As a result, its members may now travel the campus promoting free speech instead of in just a small corner of campus.
Often, students seeking to form Turning Point USA chapters face an uphill battle.
In the span of two years, for example, student government leaders at five different universities have refused to give the free market club official recognition as a student organization.
Since 2015, student leaders at Santa Clara University, Northwestern University, Creighton University, Drake University and Hagerstown Community College denied Turning Point student chapters such recognition, which would generally give the group permission to reserve space for free on campus and receive a portion of student fee allocations for events.
Similarly, Grand Valley State's administration threatened to arrest club members after they carried a "free speech ball" outside of the university's designated free speech zone — an area that comprises .03% of its campus.
The organization fought all of these decisions through administrative appeals and litigation — and all but one have been overturned.
"Turning Point USA activists do not back down," founder and executive director Charlie Kirk stated in a release about the group's victories. "Our student leaders are brave, bold, and incredibly successful at using their influence to make meaningful change."
Viewpoint discrimination
Northwestern, Drake and Hagerstown all opposed the club on the grounds that it duplicated the efforts of existing conservative clubs, such as the College Republicans. Some student senators at Drake also argued that Turning Point espouses a "hateful" message.
At Creighton, the ROTC student seeking to form the club at that Catholic university in Nebraska, Justin Carrizales, was rejected twice before finally securing approval in January.
"It's an amazing feeling," Carrizales told the Omaha World-Herald in February. "Definitely, I've put a lot of hard work into it."
Patrick Borchers, a Creighton law professor and Turning Point's faculty adviser, told the World-Herald that he respected the effort to get the organization established.
"To me, colleges, universities, ought to be, within some boundaries, respectful of having groups with different viewpoints," Borchers said.
The most recent shutdown occurred at Santa Clara University, where the director of the multicultural center called the organization "against humanity," and the student government eventually appeared to agree with that assessment, voting to deny the club official recognition.
This week, a Santa Clara University administrator overruled student government leaders' February decision to deny the club official recognition.
"The members of TPUSA-SCU are entitled to express openly their views and opinions consistent with the organization's stated mission 'to promote the principles of fiscal responsibility, free markets, and limited government,'" Santa Clara's vice provost for student life stated in announcing the reversal. "The decision to grant [Registered Student Organization] recognition to TPUSA-SCU cannot be based on whether one agrees or disagrees with the political perspective of the students who are making the petition."
Turning Point USA is a relatively new nonprofit campus activism group that largely strives to promote fiscal responsibility, free markets and free speech issues and stays away from social issues.
Launched in 2012, some of its campaigns include a "Big Government Sucks" effort. It also takes a stand against extreme leftist bias inside college classrooms and has put together a controversial "watchlist" consisting of aggregated news stories on professors who have said or done controversial things.
Today, Turning Point USA has 350 chapters and pledges to "identify, educate, train and organize students to promote the principles of fiscal responsibility, free markets, and limited government," according to its website.
And while the group has seen success and growth in recent years, the nearly half-dozen rejections at some campuses to form — even though overturned — is not the norm, according to Matt Lamb, director of Campus Integrity for TPUSA and a former student reporter for The College Fix.
"Most chapter applications for any group are approved the first time," Lamb said via email. "There is no reason any chapter should be denied for [Registered Student Organization] status unless it's a serious problem, like the club had no paperwork or only one student interested."
Notable free-speech supporting organizations such as the Alliance Defending Freedom and the Foundation for Individual Rights in Education have played a role to defend the group.
FIRE interceded at Northwestern, calling upon the university to uphold its promise to students that they may "form, join, and participate" in any group and exercise "the right of a citizen" on campus, and the administration eventually permitted the group to form.
And last week, a win for TPUSA at Grand Valley State helped expand free speech rights for all groups on campus. After the nonprofit legal organization Alliance Defending Freedom filed suit against the school on behalf of the club, administrators walked back their stance and revised their expressive activity policies to respect students' First Amendment freedoms.
Similarly, the Hagerstown Community College administration settled a lawsuit after the student wishing to start the club sued. The school agreed to change policies surrounding "expressive activity on campus" and "student organization policy and procedures."
The existence of TPUSA at Drake University, however, is still in question. After being rejected 15-3 by the student senate this past fall, the club must wait until fall 2017 to renew its plea for recognition.
Like The College Fix on Facebook / Follow us on Twitter