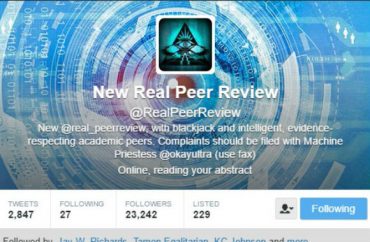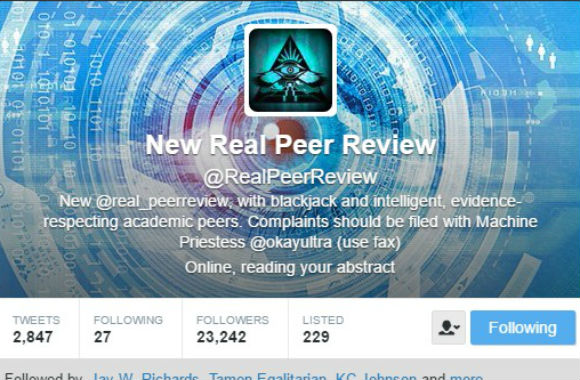 'Remember that 2017 is only a social construction'
The people behind the Twitter account New Real Peer Review are a secretive group.
They have to be: The anonymous creator of the original account for laughable left-wing research abstracts shut it down last summer following "veiled threats" and likely outing.
One of the moderators of the new account granted The College Fix a rare interview to explain the inner workings of the group account, which has often come under attack for digging up absurd articles published in peer-reviewed journals.
She goes by KULTRA on Twitter, the only New Real Peer Review moderator to use even a pseudonymous personal account, and though she won't disclose her location, she has previously said she lives in a non-Western country.
Critics have tried to "dox" or personally identify its contributors, KULTRA said.
.@TheSafestSpace How dare you mock the scientific concept of "white tears"? See, for instance, this paper: https://t.co/7LDAfqRD1N pic.twitter.com/rcsPzBzKZ6

— New Real Peer Review (@RealPeerReview) December 30, 2016
'Our primary motivation is satirizing bad research'
The account is "managed by people from different walks of life," KULTRA told The Fix in a series of private tweets, and some are "even from the social sciences" — the very discipline that New Real Peer Review often targets.
Some are even students.
"We [all] share appreciation for satire and concern over state of affairs in social sciences (especially those of us who work in the field)," she said: "Our primary motivation is satirizing bad research."
MORE: 'Veiled threats' leads Twitter account that mocks left-wing research to close
Obscure scholarly articles, which often are taken into consideration for academic hiring and promotion decisions, are routinely brought to light by the account. "Each contributor has their own approach" to finding and tweeting them, she said.
Some use scholarly search engines, while others use what KULTRA calls "vanilla" or non-academic search engines.
Recent tweets have highlighted articles about professors' daddy issues, how "white tears" are a "performance of privilege," how the exercise system Pilates is racist, and how doctors discriminate against obese people by recommending different treatments for them than skinny people who have the same condition.
#ClassicNRPR: When Pilates was racist https://t.co/IG5Ryr1KYW pic.twitter.com/xRmLETlpOI

— New Real Peer Review (@RealPeerReview) December 30, 2016
Finding an abstract that's absurd enough for Twitter can take just a few minutes or as long as an hour, but finding articles isn't the hard part, KULTRA says: "Making sure we aren't posting something we already posted is much harder at this point."
The account also satirizes postmodern and social justice-oriented theory.
MORE: College Republicans' personal info published in hit piece by leftists
Its New Year's tweet read: "Gang, remember that 2017 is only a social construction. Let's deconstruct it throughout the next 365 days."
Contributors have even taken the concept of patriarchy head-on by arguing that "Patriarchy is the flexible system that simultaneously explains the stoning of women in Saudi Arabia and gender-biased STEM syllabi in Idaho."
Peer-reviewed daddy issues https://t.co/SdEdhrURsL pic.twitter.com/EoHvGqK2vN

— New Real Peer Review (@RealPeerReview) January 1, 2017
Aiming to avoid the fate of the founder
Many academics don't appreciate what the account represents, which is why they attack the people who write it, according to KULTRA.
The original "Real Peer Review" account was shut down after critics tried to personally identify its creator and threaten him professionally. He is now keeping a very low profile, KULTRA said.
That account was the first to uncover the infamous "feminist glaciology" article, which argued for a "feminist glaciology framework for global environmental change research."
Because of the article's unearthing by Real Peer Review, the researcher who wrote it was found to have received at least $709,000 in taxpayer money to help fund the research.
"This [new] account was launched as a group effort with strong pseudonymity to avoid such problems in the future" – a lone creator who is vulnerable to outing, she said.
While New Real Peer Review has been subject to numerous hacking attempts, none of which were "very well crafted," right now it's "holding up pretty well," KULTRA said.
Its moderators would like to see more "open, freely accessible publication" in the future. And they have a message for readers, she said:
We'd like to use this opportunity to remind your readers to never, ever, under any circumstances use http://sci-hub.cc/ to check out full, unabridged versions of articles we tweet.
MORE: All you ever wanted to know about 'feminist glaciology'
Like The College Fix on Facebook / Follow us on Twitter
IMAGE: Twitter screenshot