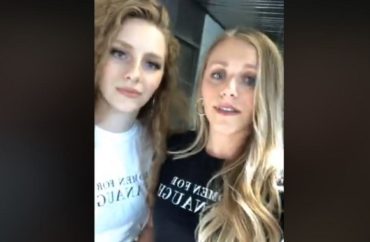 FAIRFAX, Va. — Two females attended a "Sexual Assault Prevention: Administration Town Hall" at George Mason University on Tuesday evening to support U.S. Supreme Court Justice Brett Kavanaugh amid calls that he should be fired.
Kelsey Good, who is applying to the Antonin Scalia Law School at George Mason, and Veronica Hays, a senior at George Mason, said they attended the event both to support the embattled justice and to voice support for survivors of sexual assault.
But during the course of the evening not only were they accused of supporting a "rapist" and called white trash, but they were also not given a chance to take the mic and give their public comments during the event, as organizers required questions be pre-registered in advance.
The two females' effort to support Kavanaugh — they donned T-Shirts that stated "Women for Kavanaugh" — was met with criticism and harsh words from a student sexual assault survivor prior to the event.
Good and Hays, who are members of Concerned Women for America but who were there on their own behalf, told The College Fix that before the townhall began, they decided to film a short video to explain to their social media audience why they were at the event.
As they filmed, a student walked by and stated they should "say it louder if you are proud of it, if you are proud of it say it louder, so everyone else knows that you support a rapist. I'm so sorry."
The comment was captured in their video:
As I filmed two women discuss their support of Justice Kavanaugh in a George Mason University hallway Tuesday evening prior to a sexual assault townhall, a peer walked by and said: 'if you are proud of it say it louder, so everyone else knows that you support a rapist.' pic.twitter.com/qeHkI4UEM0

— Zachary Petrizzo (@ZTPetrizzo) April 17, 2019
Despite the criticism, the two women attended the townhall and sat in the back row.
During the first hour of the event, which was closed to media as sexual assault survivors shared their stories with administrators, Good and Hays said the same student who called them a rapist supporter lashed out at them during his speech.
They said he said "the two girls in the back, wearing women for Kavanaugh T-shirts, that's white trash that won't burn." The women told The Fix the audience clapped and snapped in support.
Reached by The College Fix after the meeting regarding his comments, the student said he was "talking about the shirts that were white trash that will not burn, not the individuals."
The student added "it is extremely rude for you to hone in on that aspect of my speech instead of the sexual trauma that I went through and all the rest. I received praise for that comment."
Later in the Q&A section of the townhall, which was open to the public and media, Good and Hays asked an administrator if they could make statements. They said they were denied because all questions had to be pre-registered. This aspect of the event was advertised.
Later in the event, a student who apparently had not received prior authorization to ask a question did take the mic and speak to administrators about his frustration over the Kavanaugh hiring. It's unclear why this was allowed.
As for what the two women planned to say, they provided The College Fix with copies of their prepared comments.
Both women made sure in their comments to emphasize their concern and heartache over what survivors have gone through, but that they felt Kavanaugh does not deserve to be railroaded:
"You are demanding someone be fired based on accusations. Put yourself in that situation. All are innocent until proven guilty. No one should be fired based on accusations."

"… But the specific petition and demands being made regarding Justice Kavanaugh are deeply misguided. Not every person accused is automatically guilty. We cannot abandon the most basic principles of justice –like the presumption of innocence—in our pursuit of justice. This is counterproductive and helpful to no one."

"… To be clear. I stand against sexual assault. I support and love victims. When I heard of Dr. Ford's initial allegations, I took them very seriously. I think we all did. But the investigation did not prove the allegations beyond a reasonable doubt. Not even close."

"So, justice demands we accept the evidence and that means it would be a miscarriage of justice to condemn Justice Kavanaugh. We would be doing it in spite of the evidence."
MORE–George Mason law school senior associate dean: Justice Kavanaugh will not be fired despite demands
IMAGE: Facebook screenshot
Like The College Fix on Facebook / Follow us on Twitter