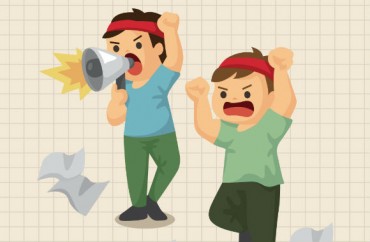 'Students weaponizing victimhood'
WASHINGTON, DC – Brown University is plagued by administrators who shelter students from controversial ideas and faculty who are too cowed to publicly defend free speech – a microcosm of higher education in the 21st century, according to a new documentary by a Brown graduate.
Rob Montz gave a preview screening of the short film, which he narrates, at a Monday night event hosted by the America's Future Foundation, a network of "liberty-minded" young professionals.
The film is set to debut Thursday on WeTheInternet.tv, a comedy channel that tackles issues around personal and economic freedoms.
Montz told The College Fix after the screening that he's working on putting together other screenings but doesn't plan to use the film as a springboard for a new advocacy group.
(It's not clear if the film's title is set. Montz initially told The Fix it's called Silence U.: Can Free Speech Survive on College Campus? but a listing at the Moving Picture Institute, which funded a previous Montz documentary, says it's called Social Justice vs. Free Speech. Montz didn't immediately answer a query.)
Pledge your loyalty to my politics
The film shows Montz returning to campus to reflect on the Brown he knew as an undergraduate in the early 2000s – where he had "endless campus debates" – and find out what it has become in the past few years.
Showing video of a 2013 student protest that "snuffed out" a speech by then-New York City Police Commissioner Ray Kelly – one student yells "racism is not up for debate!" – Montz narrates, "This is not the Brown that I know. This is students weaponizing victimhood."
MORE: Brown staff attend 'social justice/diversity' retreat
He cites the ruckus created by a debate invitation to Wendy McElroy, who has questioned the notion of "rape culture" as an author. Implicitly denounced by Brown President Christina Paxson before she spoke, McElroy tells the Brown audience in the film's footage that she lost her vision in one eye after she was raped as a teenager.
Though a small group of faculty circulated a free speech resolution after McElroy's appearance, their colleagues shut it down, Montz narrates.
Held up in contrast to McElroy is Brown Prof. Tricia Rose, director of the Center for the Study of Race and Ethnicity in America, who is shown asking her class to pledge their loyalty to her politics, in Montz's telling.
Students have "an addiction to indignation" that is enabled when administrators try to meet them halfway, Montz narrates. Paxson publicly scolded the Brown Daily Herald for causing "harm" when it published op-eds that students said were racist, yet when she offered an "inclusion initiative," unsatisfied student protesters stormed her office anyway.
MORE: Brown campus paper apologizes for op-eds that 'hurt' students
Though it features a diversity official who defends Brown's way of doing things, the film's heroes turn out to be two black academics.
Prof. Glenn Loury in the Department of Economics describes the work of speech-shuttering activists as "tyranny" in one appearance.
He later scolds those students for not taking the opportunity to answer ignorance with a trip "to the intellectual woodshed" – challenging views they abhor with debate. (Montz told the audience later that Loury was the only professor out of 20 or so who agreed to be in the documentary.)
The film favorably shows Ruth Simmons, the first African American to lead an Ivy League university, who served as president during Montz's undergrad years and is quoted as saying that learning is "the antithesis of comfort."
MORE: Brown can't handle female scholar who questions 'rape culture'
Simmons demonstrated her convictions when she demanded that conservative firebrand David Horowitz be invited to campus to speak, following the theft of the entire print run of The Herald, which featured an inflammatory ad by Horowitz.
In footage from a speech at Smith College, Simmons tells students that students do not need "collision-avoidance technology" to protect them from challenging ideas.
MORE: Brown SJWs denounce white woman who performs Hindu music
MORE: Rape victim says 'rape culture' is a lie
Like The College Fix on Facebook / Follow us on Twitter
IMAGE: notkoo/Shutterstock