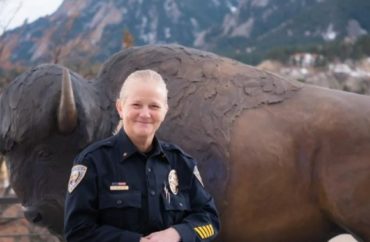 Departure comes two months following report on high-profile campus shooting
The University of Arizona's first female police chief and its first female provost are leaving their roles in the wake of a shooting death of a professor at the school that rocked the campus community and prompted a wrongful death lawsuit.
UA President Robert Robbins recently announced that Chief Paula Balafas was departing, effective immediately, the Associated Press reported last week.
Additionally, Provost Liesl Folks will step down from her leadership role at the end of the academic year but remain an electrical and computer engineering faculty member, Robbins stated.
The departures come two months after consultants released a report about the death of Thomas Meixner, a University of Arizona professor of hydrology who was gunned down on campus by a former student last October.
The consultant's report stated the university should have done more to prevent the shooting, and described the university's Threat Assessment and Management Team as "not operating in an effective manner, which prevented the university from accurately assessing, managing and coordinating to mitigate a real and present threat."
The Arizona Republic summarized the report as stating the university's "threat management process was ineffective and its security systems inadequate in the period leading up to the fatal shooting of [the] professor."
Balafas accepted the role of UA chief in February 2022 after serving as commander of the University of Colorado Police Department for nearly five years, according to a CU Boulder news release. Headlines at the time championed her as the University of Arizona's "first female police chief."
Chris Olson, a commander in the nearby Oro Valley Police Department, will now take over while her replacement is found, KOLD News 13 reported.
Meanwhile, Meixner's family has filed a $9 million claim against the Arizona Board of Regents, the governing body for Arizona's public universities, The Arizona Republic reported. The family claims inaction on UA's part before Meixner's death.
The suspect, Murad Dervish, a former grad student who allegedly threatened Meixner and employees for more than a year, has been indicted on first-degree murder and awaits trial, according to The Arizona Republic.
MORE: Arm the campus police: opinion 
IMAGE: University of Colorado Boulder
Like The College Fix on Facebook / Follow us on Twitter