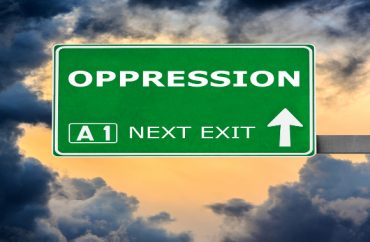 This past Wednesday, a group of about 15 University of Hawaii-Maui Native Hawaiian students and activists stole US and Hawaii state flags from around campus to protest the United States' "historical oppression of the islands."
Specifically, they say the US flag should not fly above the Hawaiian state flag.
"Our identity has been erased, beaten, battered and thrown to the side," a man wrapped in a Hawaiian flag said to those assembled before UH Chancellor Lui Hokoana.
"We're here today to say, 'No, we're still here.' We're here to communicate to the leadership at MCC that the American flag cannot fly above the Hawaiian flag any longer because of its symbolic oppression of the illegal overthrow" of Hawaii.
UH President David Lassner and campus chancellors agreed to implement a "two-flag approach" that, The Maui News reports, is already used at the State Capitol and other UH campuses: The US and Hawaii flags will be flown on separate poles at the same height.
You mean … that's it?
Hokoana said he has been trying to get a second flagpole constructed, but the work has not been completed. In the interim, the college will not use its current flagpole and instead post the two flags on separate 7-foot indoor poles outside the Wong Conference Room.

The college will use this flag standard until the construction of the second flag pole is completed, Hokoana said.

College spokeswoman Kit Zulueta said Thursday that there is a request for funding two new flagpoles in a "very visible" area on the Great Lawn by the Kaahumanu Avenue entrance of the campus. She could not provide a timetable for when the flagpoles would be constructed and said the area around the current flagpole is too small to add another one.

Zulueta said Hokoana is "very supportive" of the change and has discussed it with staff since taking over the college at the end of 2014.

She said the group's intent may have been to accelerate the process.

"It's a request our chancellor would have graciously agreed to, so it was just surprising what they did," Zulueta said. "If the intent was to get the chancellor's attention, I guess they have succeeded."
UH-Maui professor Kaleikoa Kaeo, also a Native Hawaiian activist, noted the campus is the last in the University of Hawaii system to still fly Old Glory above the Hawaii state flag … because it only has one flagpole.
So, to recap, every other UH campus (as well as the Hawaii State Capitol) has two same-height flagpoles for which to fly the American and Hawaii state flags. The Maui campus was in the process of getting a second flagpole to do the same.
But in the interim, instead of, say, creating or obtaining their own flagpole for both flags to fly side by side, activists would rather make the usual scene and create the typical controversy by screaming "OPPRESSION!!"
MORE: Hawaii bill would require background checks for homeschooling parents
MORE: Students accuse Polynesian dance group of appropriating Hawaiian culture
IMAGES: Shutterstock.com, Giphy
Like The College Fix on Facebook / Follow us on Twitter