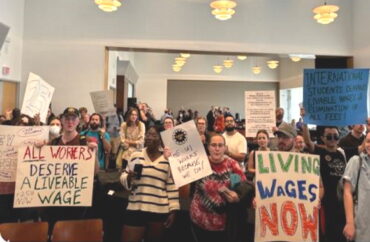 University says minimum pay already equates to $66,000 salary
Graduate students disrupted a University of Iowa Board of Regents meeting Wednesday to demand their salaries be increased by 25 percent to reflect the growing cost of living.
About 30 students and union leaders attended the Iowa City meeting to make their demands, shouting and chanting long enough that the regents ended the meeting early, the local chapter of the Campaign to Organize Graduate Students union wrote on X.
"You know what they say, 'if we don't get it, SHUT IT DOWN,'" COGS wrote, posting photos from the meeting.
Many protesters wore black COGS union T-shirts and carried signs calling for a "living wage." One sign read, "I can't afford veggies," and another told the university leaders to "get a brain," photos show.
"Unionized grad workers and their allies are at the @IowaRegents meeting to demand an emergency wage increase and a more equitable Iowa university system for ALL!" the union continued on X.
A few students signed up to speak to the regents during the public comment period, but the protesters' chants to "shut it down" succeeded in ending the meeting before anyone had the opportunity, The Gazette reports.
Responding afterward, university leaders said the students already received a 3 percent raise that they negotiated, and their salaries are "highly competitive with other Big Ten institutions in the Midwest."
Room FULL of grad workers and community members just SHUT DOWN the Board of Regents meeting. You know what they say, "if we don't get it, SHUT IT DOWN." #25PercentNow pic.twitter.com/U69FKJJ6sU

— COGS/UE Local 896 (@cogsunion) September 27, 2023
In a letter ahead of the protest, local union leaders said graduate teaching assistants, research assistants and other campus workers are seeing tuition rise and wages fall, and they deserve higher pay. COGS represents about 1,900 student workers.
"This gap between the living wage and the current wages of graduate workers means that many are rent burdened, food insecure, and going into debt as they contribute essential labor to the university through their teaching, research, and administrative roles," COGS said in a statement.
Student protesters said the 25 percent raise would put their pay in line with the living wage of a single adult in Johnson County. They based their demands on calculations using a "living wage calculator" from the Massachusetts Institute of Technology, according to The Gazette.
University leaders disagreed with the amount, saying the students make the equivalent of $66,019 per year based on UI calculations. Meanwhile, using the same MIT tool, they said they calculated the living wage for a single adult in Johnson County to be $35,152.
University Regents spokesman Josh Lehman told the newspaper that graduate student workers also receive benefits, including reduced tuition, fees, and health and dental insurance.
"Both the UI and Iowa Board of Regents continuously evaluate multiple factors when considering graduate assistant compensation, including comparisons with Big Ten peer institutions, other UI employee groups, and the local cost of living," Lehman said.
However, COGS leaders said that is not enough, and they are not giving up the fight. They criticized the regents for negotiating salaries and benefits through lawyers and negotiators instead of doing it themselves.
"All while the university system brings in billions in revenue," union leaders said.
MORE: Indiana University cuts doctoral admissions to pay for 46% grad student raise
IMAGE: X screenshot
Like The College Fix on Facebook / Follow us on Twitter