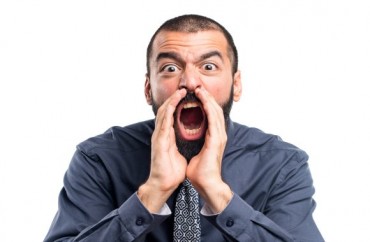 The University of Kansas's Black Lives Matter-esque protest group "Rock Chalk Invisible Hawk" has been busy this past week, occupying the chancellor's office on Wednesday to demand more "discussions" about "how University administration could address racial discrimination on campus."
A couple of suggestions made by the group were "including students in the Diversity, Equity and Inclusion Advisory Group," and instituting a ban on the social media app Yik Yak — because, after all, people can post nasty things anonymously on there.
However, apparently on that same day, the sorority Delta Delta Delta had dared to hold a fundraiser — for children with cancer — by selling candy canes.
Uh oh.
This did not sit well with RCIH and its allies:
.@KUnews do you see how the system is designed for @KUTriDelta to sell candy canes, but not listen to PoC #RockChalkInvisibleHawk

— Alex Kinkead (@AKinkead) December 9, 2015
.@KUTriDelta control your members. Now is NOT the time for laughin/candy canes. Have you heard of microaggressions? #RockChalkInvisibleHawk

— Alex Kinkead (@AKinkead) December 9, 2015
Additionally, it seems having to deal with anonymous idiocies on social media, etc. is more injurious than that for which we have yet to find a cure:
.@KUTriDelta cares more about philanthropy than #blacklivesmatter #RockChalkInvisibleHawk @KUnews @KansanNews @InvisibleHawks

— Alex Kinkead (@AKinkead) December 9, 2015
We shouldn't have CONTINOUSLY affirm that identities matter. We shouldn't have to prove our lives > $1 candy canes. #RockChalkInvisibleHawk

— Alex Villagran (@DrProfessorAlex) December 9, 2015
As National Review Online's Kat Timpf notes, the protesters said they weren't miffed at the fundraiser itself, just that the sorority didn't stop to stand with RCIH's cause after the group had donated to the Deltas:
y'all @InvisibleHawks isn't about silencing a philanthropy. I was there. I heard RCIH offer to buy all the candy so they could stand w them.

— Danica Christine (@DanicaCh) December 9, 2015
But yet we supported them? Donated money? And when asked to join/support students of color we were met with nothing. https://t.co/jzITGN1vhL

— Alex Kinkead (@AKinkead) December 9, 2015

As could be expected in the current PC college climate, the Tri-Delt's issued an apology:
"In regards to RCIH, our intention was solely to raise money for kids suffering from cancer. It was not to take away from the issue of oppression and marginalized groups or to appear racially insensitive. Diversity is very important to Tri Delta, and we are working with PHA and other organizations to contribute to the end of systematic racism."
Not to worry, Deltas. There was absolutely nothing for which to apologize. The vainglorious conceit demonstrated by RCIH spoils its reputation, not yours.
Like The College Fix on Facebook / Follow us on Twitter
IMAGE: Shutterstock