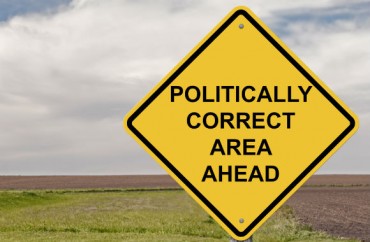 Students at the University of Manchester recently painted over a Rudyard Kipling poem located on the student union building, and replaced it with (African-) American Maya Angelou's "Still I Rise."
The reason? Kipling and his writings are (were) "imperialistic and racist."
Sara Khan, the student union's liberation and access officer(!!), put up a post on Facebook explaining the students' action:
"We, as an exec team, believe that Kipling stands for the opposite of liberation, empowerment, and human rights — the things that we, as an SU, stand for. Well-known as author of the racist poem 'The White Man's Burden,' and a plethora of other work that sought to legitimate the British Empire's presence in India and de-humanize people of color, it is deeply inappropriate to promote the work of Kipling in our SU, which is named after prominent South African anti-Apartheid activist, Steve Biko."
According to Inside Higher Ed, the union rationalized the move as "not vandalism," stating "it is breathing life into a project to make it truly student led."
A UM spokesman said the students were free to do as they pleased with the mural as "the union is independent of the university." Still, students noted they "incited levels of racist abuse and criticism that are completely unacceptable" by painting over Kipling's poem.
Kipling experts greeted the news with mixed results. Kipling biographer Andrew Lycett said the union was "grandstanding" with a one-dimensional view of the author:
There is no evidence that the students have read anything that Kipling wrote. They see him as a symbol of 'imperialism' and related thinking — notably a lack of enthusiasm for the self-determination of colonized peoples. He was indeed an imperialist; there is no arguing that; it was an essential part of his conservative political credo. However more importantly he was an imaginative genius, who was responsible for some of the finest writing of his age — from the stories in Plain Tales from the Hills, through poems such as "The Way through the Woods" and children's favorites such as The Jungle Books, to his great Indian novel Kim.
Another biographer, Jan Montefiore, said "Of course [Kipling] was a racist. Of course he was an imperialist, but that's not all he was and it seems to me a pity to say so. […] Dickens said dreadful things about black people in the Jamaica rebellion. Does that mean you don't read Dickens?"
Read the full IHE story and Guardian article.
MORE: How 'white savior complex' applies to the Manchester terror attack
MORE: Oxford removes Cecil Rhodes plaque
IMAGE: Shutterstock.com
Like The College Fix on Facebook / Follow us on Twitter