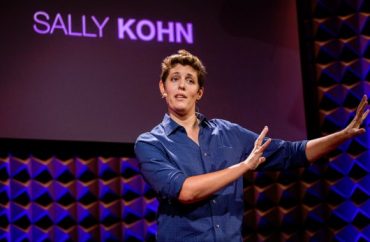 Following CNN contributor Sally Kohn's comments that advocacy for free speech is "really just an excuse for attacking multiculturalism and other progressive attitudes," the University of Michigan had planned a debate between her and conservative provocateur Milo Yiannopoulos.
But, according to Breitbart.com, UM had to cancel the event — because the ardent progressive Kohn's fees were just too high:
According to emails seen by Breitbart, Kohn initially quoted a fee of $11,000, "plus incidentals, travel, lodging, etc", but later reduced and then finally dropped the fee upon discovering that Yiannopoulos doesn't charge for speaking events at colleges.

Kohn did however that stipulate that in exchange for dropping her fee, she must be allowed to interview Milo for her new book. Still, Kohn's travel and accommodation bills were too high for students to accommodate and as a result, the event has been cancelled. Milo is however touring college campuses across the country.

MORE: LSU seeks ways to stop Milo Yiannopoulos event based on possible 'incitement of violence'

Kohn told Breitbart via email that she lives off speaking fees. The Dangerous Faggot Tour, which arrived in Baton Rouge for a highly anticipated talk tonight at Louisiana State University, plays to student audiences at no charge.

This morning Milo withdrew his consent to be interviewed by Kohn for her book, telling Breitbart: "I'll focus on giving interviews to people who don't price-gouge 19-year-olds."
"Lives off speaking fees …"? Seems like she forgot to add "lavishly" in there given that $11K a pop charge.
Remember, Kohn supposedly is an advocate for the little guy. After all, last year she showed solidarity with Olive Garden(!) workers demanding a better wage — and abolition of tipping — and even made them a sweet little valentine as "proof":
Valentine I gave to a server at @olivegarden protesting abysmal tipped minimum wage — with @rocunited #1FairWage pic.twitter.com/eUFYAGp9Nh

— Sally Kohn (@sallykohn) February 13, 2015
Of course, like a clueless restaurant patron, all this really proved is that she knows how to stiff those for whom she claims to support. Eleven grand for a speech … and you give 'em a construction paper valentine?
In addition, don't forget that Kohn (and her CNN colleagues) helped to forward the (false) narrative known as "Hands up, don't shoot":
Proud to show support w my co-hosts MT @wkamaubell: .@cnn #ICantBreathe #BlackLivesMatter pic.twitter.com/0VZ7DqIHwy

— Sally Kohn (@sallykohn) December 13, 2014
Meanwhile, the University of Delaware is bracing for Milo's appearance there on October 24, as the student newspaper The Review has already featured unintentionally funny (and sad) "we're pro-free speech but Milo shouldn't be allowed here" pieces by its editorial board and from the Department of Women and Gender Studies.
Read the full Breitbart article.
MORE: UC Irvine College Republicans sanctioned for Milo event
MORE: DePaul president grovels before students for mildly criticizing their thuggery toward Milo
Like The College Fix on Facebook / Follow us on Twitter
IMAGE: [email protected]_RL5D8038/Flickr