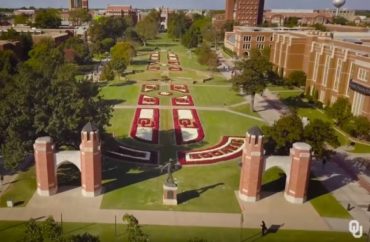 New state law revokes mandatory DEI training for all students
On Friday, the University of Oklahoma wrapped up "DEI Week," a full five days dedicated to increasing diversity, equity and inclusion on campus.
During the week, the school's department of Division of Diversity, Equity and Inclusion held events such as "My Story of Belonging in Our Community of Care," "Diversity in Comics," and a "Muslim Patient Cultural Sensitivity Workshop."
The theme given to DEI Week was "Our Community of Care."
"The University of Oklahoma is committed to providing students, faculty, and staff with learning opportunities that equip them to serve society as leaders who understand the world around them and can navigate it with respect and dignity for all," said OU spokesperson Mackenzie Scheer in an email to The College Fix.
"One such opportunity is Diversity, Equity, and Inclusion Week. Throughout the week, students, faculty, and staff may choose to participate in a variety of events aimed at helping community members understand and respect the perspectives of others. The week promotes free speech and civil discourse, and encourages participants to help build a community of care across OU's campuses."
In the past several years, DEI has become omnipresent on campus. In August 2020, Oklahoma instituted mandatory DEI training for all students and professors. After a new state law was signed, the school has since rescinded the DEI requirement for students, but it still applies to faculty.
According to its most recent diversity report, 100 percent of students and 89 percent of faculty complied with the DEI training requirement while it was in effect.
The university called one of the training modules the "Unlearning Series," as it sought to force students and faculty to "unlearn" their biases.
"Learning the history of racism, classism, ableism, sexism, and trans+homo negatvity [sic] is the starting point of the Diversity Ally workshop series. Unlearning individual biases is a necessary skill to advance the sense of belonging at OU," reads the summary of the module in the school's 2021 annual diversity report.
"Developed for OU faculty and staff, this series is designed to foster a welcoming climate in the workplace and the classroom by equipping participants with skills and resources to reduce their biases, to support students and colleagues who experience discrimination and to disrupt harmful dynamics when they arise."
The mandatory training requirement quickly ran into trouble, however, when one graduate student reported the school was marking certain opinions incorrect. The student said OU was not only requiring training, but also requiring students to expressly agree with campus leaders' positions on DEI matters.
That student, Elizabeth Owen, was required to complete three separate diversity modules in the fall semester of 2020. According to the Foundation for Individual Rights in Education, Owen was required to select the "correct" answers as dictated by OU, rather than the answers that she felt "best represented what she would do in the situation."
In one hypothetical example given by the school, a student complains about "all this transgender stuff," and the student receiving the training is asked how he or she would respond.
Owen selected the response closest to her personal feelings, "I agree. Political correctness can be so tiring" — but was told her opinion was not the "best choice."
The video then rewound and required Owen to watch the hypothetical again, then provide a different response. The trainees could not move to the next question until they agreed with the school's preferred response, which was, "You seem upset. What's the matter?"
The university later responded to FIRE, defending requiring certain viewpoints.
"I respectfully disagree that the University's workplace diversity training constitutes an unlawful infringement on employees' rights," wrote OU Vice President of Diversity, Equity, and Inclusion & Chief Diversity Officer Belinda Higgs Hyppolite in an email to FIRE.
Hyppolite said she wanted "the training module to be as inclusive as possible and do not wish for any person to feel fearful, threatened, or compelled to any particular viewpoint," and had "asked for a meeting with [OU's] vendor to discuss this concern and see if there might be a means to communicate that through the software."
But in May 2021, Oklahoma's governor, Kevin Stitt, signed a new bill into effect that banned mandatory DEI training for students. The new law made the school's "Gateway to Belonging" class, which was supposed to provide instruction in racial diversity, optional rather than mandatory.
"OU's diversity, equity, and inclusion training, provided by EverFi, is designed to foster an inclusive environment," Scheer told The Fix.
"The training is optional for students and required for employees. The training does not impose specific ways of thinking, but instead, presents situational examples of how to engage with the broader world in a way that is understanding of all people and perspectives. As of June 24, EverFi has updated its training modules to ensure individuals are free to select their answer of choice, while still providing education on civil engagement."
Yet despite the end of mandatory DEI training for students, the school maintains a requirement that every college, division and administrative office submit DEI reports to the school on an annual basis.
The OU Gaylord College of Journalism, for instance, demonstrates diversity in its program by naming each faculty member that helps them fulfill the "gender or ethnic diversity" metric. The list includes faculty members that are simply "female."
In its diversity report, the OU Law School boasted of its policy to personally interview each applicant to provide a more holistic version of the student.
"This step has provided the college with an excellent view, beyond written applications, of the needs, goals and motivations of our applicants and admittees, which has enhanced their sense of belonging and has led to an extremely high acceptance rate," the report reads, crediting the policy with providing the school with more minority students.
The College of Law also credited itself for using a "historically balanced" approach to admission, "continuing to focus on the overall quality and potential of the applicant but also to seek explanation for lower proxy factors that themselves could reveal, independently, demonstrated potential for leadership and success."
The OU College of Arts and Sciences vowed to "Increase recognition programs that acknowledge contributions made to advancing diversity."
In addition, the school's Office of the Senior Vice President and Provost maintains a website of DEI resources, including a full page recommending articles supporting Critical Race Theory.
In total, the school's diversity report boasts of 78 separate diversity trainings and workshops, 44 campus climate change initiatives, six race-specific employee resource groups, and several diversity-centered scholarships.
MORE: U. Oklahoma coaches claim they can discipline players for their politics
IMAGE: YouTube screenshot
Like The College Fix on Facebook / Follow us on Twitter