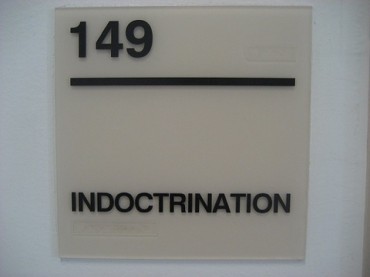 The University of Oklahoma's newest administrator, Jabar Shumate, has helped "la[y] out a blueprint" for the college's upcoming mandatory diversity training.
The call for the indoctrina-, er, training came about as a result of the Sigma Alpha Epsilon racism scandal, and "the rise of black student alliance Unheard."
Incoming freshmen will be required to take five hours of Shumate and company's brainchild, either via a class, "gateway" classes, or through an avenue dubbed "Camp Crimson."
"We really want students from the start at OU to understand that diversity and inclusivity is at the core of who we are as Sooners," Shumate said.

Freshmen that do not go to Camp Crimson and receive the training there will receive it if they take a gateway course, according to Shumate. If they do not take a gateway course, certain courses that are approved by a committee will be able to infuse the diversity curriculum into the course's curriculum. If a student does not participate in any of those, they must take a stand-alone diversity training, Shumate said.

"By the end of your freshman year," Shumate said, "you will have to have had this five hours of diversity and inclusivity experience within one of those options."
OU President David Boren notes that Shumate's views "have been extremely helpful" and says he believes the new VP for University Community "will be a very positive force for more inclusiveness in the OU family."
It probably would be prudent to advise incoming OU freshmen to be very careful with their lingo at these trainings. After all, President Boren has shown himself to be not exactly a big fan of the First Amendment.
RELATED: President who expelled students for speech gets praise from Obama, university staff.
RELATED: Shuttered Oklahoma frat hires 'high profile' lawyer to represent members.
RELATED: Students expelled for leading racist chant on bus: 'hostile learning environment.'
RELATED: Frat vandalized, students march to protest racist video of U. of Oklahoma.
Like The College Fix on Facebook / Follow us on Twitter
IMAGE: Jeff Hester/Flickr