Time to stop debating this incident and hire loads of bureaucrats
The University of Oregon is paying an alleged victim of sexual assault $800,000 and four years of paid tuition and housing in a settlement to resolve a lawsuit against the school.
It's the first major test of how new President Michael Schill will handle such allegations, particularly when they involve student athletes.
Though he served as dean of the University of Chicago's law school before coming to UO, Schill's expertise is in property law – he co-authored a "casebook" on the subject – so it's unclear how much attention he will give to due process for accused students.
The January lawsuit by "Jane Doe" alleged the school showed "deliberate indifference" in recruiting transfer student Brandon Austin to UO's basketball team, despite his being suspended from his previous university for alleged sexual misconduct.
It also personally accused head basketball coach Dana Altman of depriving Doe of educational opportunities by creating a "hostile educational environment" in violation of Title IX. Doe dropped Altman from the suit shortly before the settlement was announced.
No criminal charges, but banned from campus
The dispute centered on a party in March 2014 celebrating a men's basketball team victory over the University of Arizona.
Doe claimed she was sexually assaulted repeatedly by players Damyean Dotson, Dominic Artis and transfer student Austin first at that house party, and then later that night at the apartment of Artis. Her father notified university police the next day.
The Lane County District Attorney's office declined to pursue criminal charges for lack of evidence, but all three players were eventually suspended by the university and banned from campus for four to 10 years.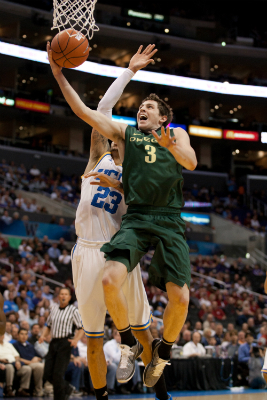 According to the lawsuit, the University of Oregon knew of Austin's misconduct record and recognized the "substantial risk" that he posed to female students but failed to monitor him or notify the student body of the risk he posed. It claimed the university deliberately delayed disciplinary procedures in order to avoid harming its basketball team's performance.
Seeking to defend itself against Doe's claims, the university accessed her therapy records – a move that provoked outrage but likely did not violate any regulations. (That might change if the U.S. Department of Education changes its guidance on the subject.)
The school admitted no liability in settling the lawsuit, stating that none of its employees committed any wrongdoing in either Austin's recruitment or in responding to Doe's allegations against the players.
But it has also agreed to change its admittance policy to include questions about an applicant's criminal and disciplinary past.
In a statement released through her attorney, Doe thanked the UO community for its "remarkable" response to her claims and said she was "glad to have this case behind me today and to be able to focus on my studies."
Nobody 'failed to live up to the high moral standards' expected of them
President Schill struck a similar tone in his Tuesday email to the campus community announcing the settlement.
He described the incident alleged by Doe as an "affront to us all" and said that as president he would "not tolerate the victimization of any member of the community. Period."
Yet citing his experience as an attorney and law professor, Schill said he wanted to emphasize what the settlement "did not mean" – namely, that coaches, administrators and other personnel acted "wrongfully" or "failed to live up to the high moral standards" expected of them.
It's time to stop debating Doe's factual claims and "instead move forward and implement a comprehensive set of policies to ensure that all our students feel secure in the knowledge that they will be free from sexual violence," Schill said.
That includes starting a hiring search for a new associate vice president and Title IX coordinator, adding more staff focused on prevention of sexual assault and an "additional professional" who will focus on investigations of assault, Schill said. He only mentioned due process once, at the very end.
Use resources on bureaucrats or police training?
Schill was more standoffish in a Q&A with the Daily Emerald, the school newspaper.
He said the school was mulling a settlement before he took the reins in July, and now that it's happened, the community can't dwell on the past: "This has been an issue that's divided the campus." Schill refused to answer whether it was a "mistake" for UO to recruit Austin or "wrong" to countersue Doe or pull her therapy records.
Asked if he would have handled the case differently had he been president last year, Schill demurred: "It's always easy to second-guess." He said UO had already hired five new employees to handle sexual violence and would hire three more.
Unlike in his email, Schill emphasized in the Q&A that accused students need fair treatment too: "I think we've got the balance right" with the new staff.
Schill's office and UO's press office declined interview requests with The College Fix, simply providing Schill's email statement to the community. Doe's attorneys did not respond to requests for comment.
UO's moves didn't impress the Foundation for Individual Rights in Education, which has expressed skepticism at the ability of universities to appropriately or effectively handle investigations of sexual assault.
"I am not convinced that a parallel judicial system has produced a fair result for either victims of sexual assault or those accused of it," Will Creeley, vice president of legal and public advocacy for the civil-liberties group, told The Fix in a phone interview.
Victims of sexual assault frequently find themselves up against a confusing process and a self-interested administration, while those accused often face disciplinary hearings with a lower standard of evidence and no opportunity to cross-examine witnesses, retain a lawyer or present exculpatory evidence, Creeley said.
It would be a better use of resources to stop hiring administrators to handle allegations, and divert them toward training actual police to better handle crime, particularly sexual assault, in a campus environment, Creeley said.
Like The College Fix on Facebook / Follow us on Twitter
IMAGE: Shutterstock