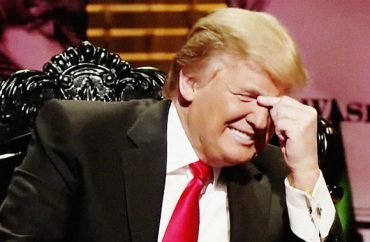 High school English teacher and University of Ottawa adjunct John Richardson believes the Oscar-winning film "The Shape of Water" offers up "the most detailed, poetic critique" of the "hollow promises" of Donald Trump's presidency.
The film, which examines the love story between a sea creature and a mute woman named Elisa, features a black character and a gay character in supporting roles. These individuals, Richardson writes in The Week, represent the Americans who "live lives of quiet oppression" in the "shimmer[ing], mythical and revered" Trump era.
Richardson trains U. Ottawa students who may go on to careers as English teachers like himself. He believes in the importance of "critical literacy," and says many of his class discussions have dealt with how this year's movies offered "clever responses to the racist, sexist and xenophobic policies and rhetoric" of Trump and his administration.
Opposing the quiet, marginalised Americans is Strickland, a shadowy government worker upon whose character the filmmakers apply hateful qualities like layers of slime. It becomes evident that Strickland is designed as a bridge to Trump's present-day political toxicity when a smooth-talking car salesman tells him: "You are the man of the future."

A further connection to Trump is made when Strickland announces: "The future is bright. You gotta trust in that. This is America." Here the film has fun with its ironic presentation of the past. As audience members in 2018 watching a film set in a period of time more than half a century ago, we may question whether the future has indeed turned out to be "bright."

Witnessing the assault on otherness and a turn to American nativism, we may question what it now means to be American, and where a nation that was once so welcoming to immigrants has gone. …

Like Trump, Strickland boasts about his power to sexually assault women when he harasses silent Elisa with the line: "Bet I can make you squawk a little." He has sex with his wife in a mechanical manner that diminishes and belittles her. His casual vulgarity oozes male privilege. His repellent masculinity crowds out a woman's agency. …

When the mute woman, the Black woman and the gay man act together to free the beautiful "undesirable" from his prison, the film suggests that the creativity and humanism of outsiders can prevail against cruelty and corruption.
The adjunct goes to note that Strickland's query about the Russians in the film (who infiltrate the facility in which the "Amphibian Man" is kept) represent "the current political discourse" surrounding "illegals," "shithole countries, and Trump's "restrictive" immigration policies: "How did they get it?"
MORE: Profs at Catholic university protest Trump with … a punk band
MORE: College class studies fascism from 'Mussolini to Trump'
IMAGE: YouTube
Like The College Fix on Facebook / Follow us on Twitter