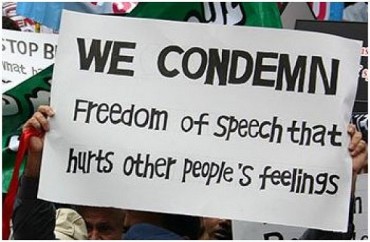 The Oxford University Student Union passed a resolution last Thursday which says "hateful content" should be excluded from all required teaching materials.
According to The Oxford Student, the so-called "Academic Hate Speech Motion" requires the Student Union to "lobby for trigger warnings on readings lists and for lectures, tutorials, and examinations with content deemed prejudicial against [trans and non-binary people, women, and the disabled] to be non-compulsory for students."
The motion contends university free speech policy doesn't apply when students have to "listen to the speech in question."
The SU also incorporated a "Protection of Transgender, Non-binary, Disabled, Working-class, and Women* Students from Hatred in University Contexts" into the motion. This goes beyond UK law and seeks to establish a new university policy to include "incitement of hatred on the grounds of gender identity, disability, and socio economic status." (The article doesn't indicate what the asterisk on "Women" signifies.)
Under the new policy set by the motion, courses that contain 'prejudicial content', such as the FHS Medical Law and Ethics course- which was noted as the sole example in the motion- should revise their course content and reading lists. The motion states that articles on the Medical Law and Ethics reading list are 'ableist content'. An article entitled "Why We Should Pick the Best Children" advocates for a moral duty not to have disabled children whilst another advocates for the 'murder of disabled children after they have been born', the motion noted.

Professor Jonathan Herring, who teaches the course, argues that such resources are necessary in order to fight prejudice views.

Herring told The Oxford Student "I profoundly disagree with the arguments in both of those articles and have argued as strongly as I can against them in my own writing. It is only by reading the views of those we disagree with that we can show how weak their arguments are. Pretending that there are no ableist books or articles is not the way to combat and defeat ableism"
In an op-ed from the same day as the OS story, Oxford student Antonio Pattori blasts the SU resolution saying "students unwilling to be challenged, simply should not even apply to university – a place where your ideas should be formed through scrutiny, analysis, questioning, and being exposed to all sorts of remarkable, laudable and even objectionable ideas."
Pattori calls the motion "flawed" and "dangerous," and rightly points out that tutors and those who compile reading lists won't know where the "line" is drawn between hateful and acceptable content.
Read the article and full op-ed.
MORE: Oxford feminists: It's OK to deplatform speakers if we can't 'debate' them
MORE: Oxford may drop epics from classics curriculum
IMAGE: Sam Graham / Flickr.com
Like The College Fix on Facebook / Follow us on Twitter