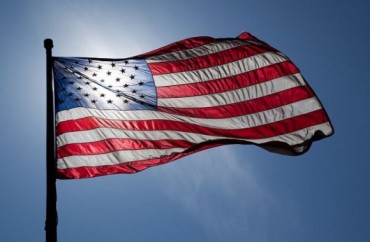 Members of the University of Pennsylvania men's basketball team, as well as several coaches, have been keeping  "conversations" about race going this season — by remaining seated during the National Anthem at games.
The team feels racial issues have been "pushed to the background post-George Floyd, the verdict," and as such wants to talk racial boilerplate such as the "prison industrial complex," the "wage gap" and the general experience of being "Black young men."
Nat Graham, one of the protesting coaches (a sociology-majoring Penn alum with a masters in multicultural education from Eastern U.), has been rather outspoken about the team's activism and believes you are stupid in several ways.
The first is his bringing former NFL quarterback Colin Kaepernick back into the fray.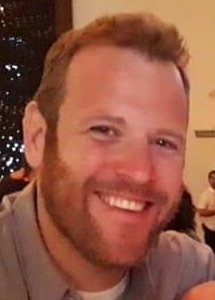 Graham (left) says "[Penn's] demonstration of protest was borrowing on that which was started by Colin Kaepernick. Like Kaepernick, our players reasons for sitting were not specific to policing in this country. Like Kaepernick, our team did not intend to 'disrespect' police or military."
Except that … ripping the police is precisely why Kaepernick began his protest during the National Anthem at NFL games. Over five years ago, the then-San Francisco QB first sat — not knelt — during the anthem because he wasn't "going to stand up to show pride in a flag for a country that oppresses black people and people of color [and where] there are bodies in the street and people getting paid leave and getting away with murder."
He also showed his "respect" by donning socks for pregame practice depicting police as pigs: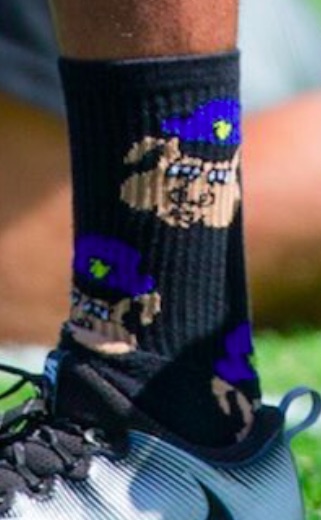 ALERT: Check out our new Campus Cancel Culture Database!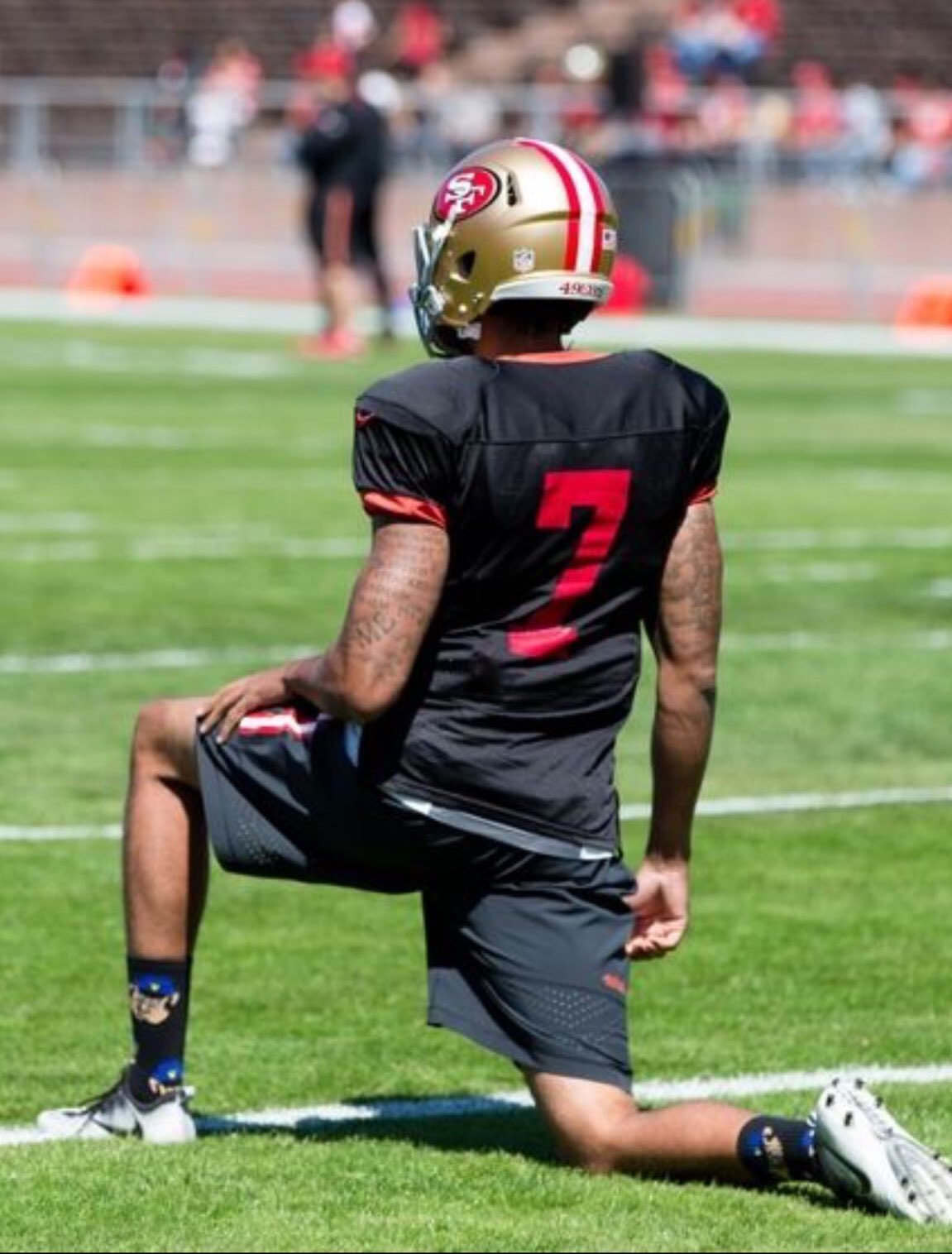 Ironically, a few days after this first protest, Kaepernick met with former Seahawks player (and Green Beret) Nate Boyer who convinced him to kneel for the anthem instead of sitting — to show respect (from a military perspective).
What is the Penn b-ball team doing with its protest again? Oh yeah: sitting. (By the way, here's Kaepernick's initial reaction to yesterday's Kyle Rittenhouse verdict):
We just witnessed a system built on white supremacy validate the terroristic acts of a white supremacist.

This only further validates the need to abolish our current system. White supremacy cannot be reformed.

— Colin Kaepernick (@Kaepernick7) November 19, 2021
Next, Graham wonders condescendingly if the team's critics were taught history from texts which "talk of how kindly slaves were treated" and "how there were Black soldiers who fought for the Confederacy." This is followed by his going full critical race theory (CRT):
Perhaps they think that is all ancient history and subscribes to "why is everything about race" and "pull yourself up by the bootstrap" narratives. Do they know the discrepancies across all aspects of life regarding the lives of Black Americans versus those of white Americans that currently exist? Health care, housing, jobs, pay, access to nutritional food options, the legal system, incarceration, poverty, climate change, violence, hate crimes, education, on and on). RACISM is in everything.
Yep, like critical race theorists (and those who get paid large sums of money to disseminate it), coach thinks the philosophical opposition is comprised of anachronistic lunkheads who don't read books or watch (the correct) documentaries.
How dare people listen to black pundits like Larry Elder and Candace Owens, he says. "Have [our critics] tried to come up with solutions to help these Americans realize the American Dream?" he asks. "Have they advocated for policy changes to help their fellow Americans? Have they intentionally done anything to benefit the lives of Americans of color?"
And as is typical with progressive activism, Graham and his players don't like it very much when people share their disapproval of the team's protest with boos and hisses. You're supposed to accept what they do … because shut up.
One might ask Graham to consider what happened a couple of a weeks ago on Election Day, especially in Virginia, but like many leftists and the media, he's doubling down: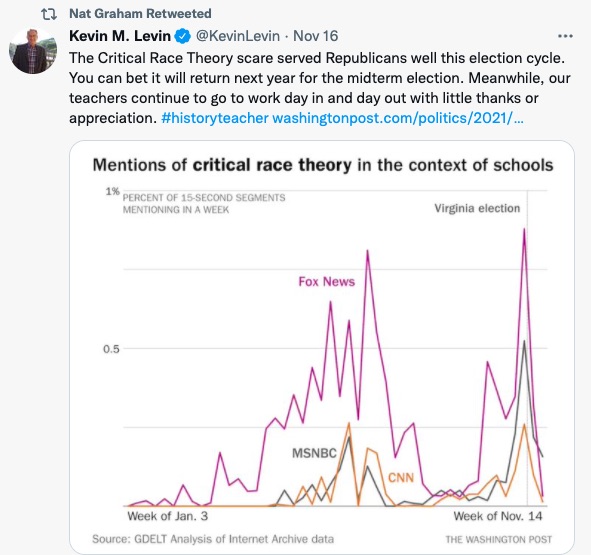 The simple facts are that 1) disagreeing with the premises of critical race theory doesn't mean one is racist or stupid, and 2) many, many Americans can be cognizant of their country's flaws and believe it disrespectful to sit for the National Anthem. Why? Because the flag represents the ideal eternally striven for … the dream.
But it's a dream that won't be realized if the adherents of CRT get their way.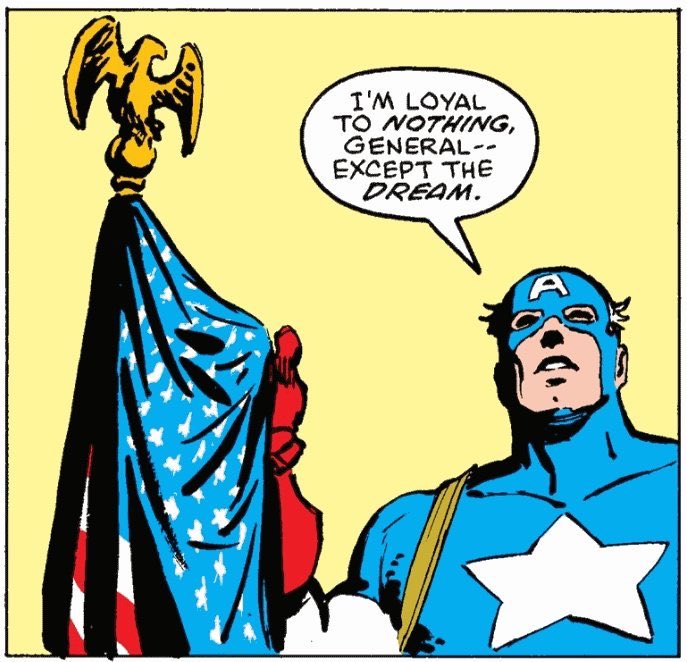 MORE: Left-wing teachers still can't decide if they do or do not teach critical race theory
MORE: Anti-racism guru claims opposition to critical race theory is 'second assassination' of MLK
IMAGES: Flickr.com; Twitter screencaps
Like The College Fix on Facebook / Follow us on Twitter