A University of Pennsylvania grad student teaching assistant has come under fire for utilizing a classroom discussion method dubbed "progressive stacking."
According to the description in an Insider Higher Ed article, this method means that a professor or teacher will "call on students who may be — for a variety of reasons — less likely to have their say."
Without even clicking the link, you can probably guess what this means. But if you can't, the UPenn grad student in question, Stephanie McKellop, bragged on Twitter about using the "stacking" method thusly: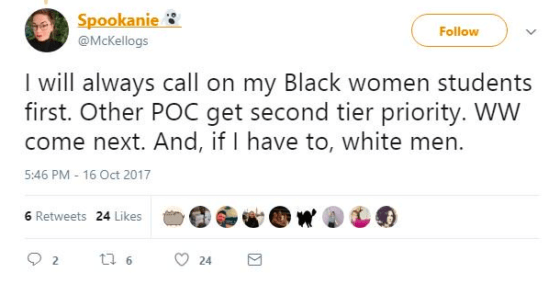 After a firestorm of criticism for her tweets, the usual social justice types have jumped to McKellop's defense, including Philly.com's Helen Ubiñas, with all saying basically that "Oh, well, it was poorly constructed tweet, but she meant well." Ubiñas even brings up Drexel's George Ciccariello-Maher, writing "Remember how Drexel University reprimanded [him] for his controversial tweets after numerous threats were made against him and the campus."
Naturally! In Progressive Land, folks like McKellop and Ciccariello-Maher are not culpable for what they do! And, their critics are quickly called "fringe-right" or worse: Nazis:

Yes, "ha ha." We've seen how this playbook has been used many, many times, and it's boring already. So, enough with that angle and let's consider the pedagogy with which McKellop is so infatuated: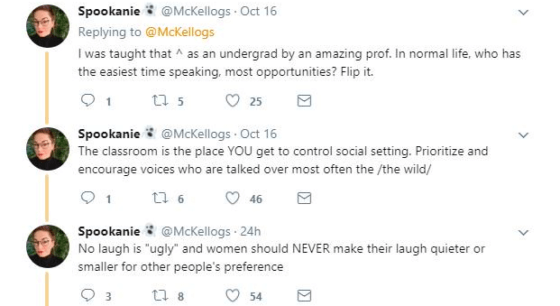 In her first tweet you see she operates on the assumption that (straight) white men are those who have the "most opportunities," etc. in "normal life." In the second, she lets us know that SHE will be in control … meaning she'll indeed "flip" that alleged "normal life" default by doing what she said in the very first tweet in this post: establish a racial/gender discussion hierarchy.
Again, note in that very first tweet she says "always."
In her article, Ubiñas claims progressive stacking is not discriminatory:
[Progressive stacking is] "an acknowledgment that traditional pedagogical techniques have silenced marginal voices," said Nolan Cabrera, the Arizona professor.

Not much different, several professors told me, from what many good teachers do without thinking, or tweeting, in an effort to include much-needed and long-overdue perspectives in classrooms.  Or, even simpler, to give everyone a say.

Inclusion is not discrimination.
I'll make it even simpler: It's what good teachers are supposed to do without thinking because they're good teachers, not because they're perpetually cognizant of some needed "conversational race pyramid."
Here's what I wrote almost a year ago:
One day, our staff received an email from the principal stating that teachers were to use — exclusively — popsicle sticks (with students' names on them) to call on students to answer questions.

The rationale? It would prevent any teacher "unconscious bias" — that is, racial bias as, supposedly, teachers don't call on minority students as much as white.

Our principal noted his decision was based on a student questionnaire given at the end of the previous school year in which some minority students had claimed they weren't called on as much as their white peers in class.
After all, to quote Jerry Seinfeld, what're teachers — prisoners of inertia? They cannot be expected to utilize good, effective, and fair classroom discussion methods as the professionals they are? If they cannot, it's no wonder the profession is not held in very high esteem.
The popsicle scenario was a reaction to what National Review's Kat Timpf had written on raising one's hand in class:
Hand-raising also allows students to decide which questions they feel the most comfortable answering. Everyone has good and bad subjects; everyone has good and bad days, and allowing hand-raising gives students the chance to answer the questions that they feel the most confident answering. Denying students who are excited about a particular subject the opportunity to proudly display their knowledge of it takes the fun out of learning[.]
If you're a white guy in Stephanie McKellop's class who's really into the subject at hand, based on her own words you're essentially out of luck if you want to join in on a discussion. I mean, if she has to call on you she will, but if anyone else on the racial spectrum has his/her hand up … oh well!
Even though you're left out, at least you can take solace knowing your exclusion is all in the name of … inclusion.
Only in academia.
MORE: No Campus for White Men — new book details harsh reality in higher ed today
MORE: Spokeswoman for DC Public Schools says 'abolish' white men
IMAGES: Shutterstock, Twitter, imgur
Like The College Fix on Facebook / Follow us on Twitter