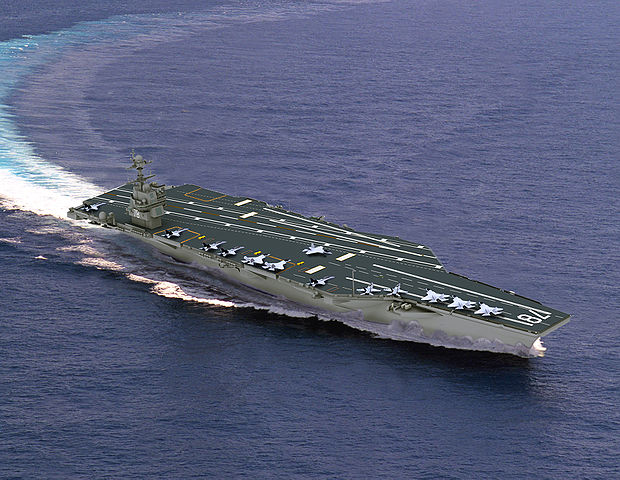 Bob Dylan warned us: The times, they are a' changin'.
The U.S. Navy has announced that it will not install urinals on its new Ford-class aircraft carriers, in a move that they say will save money and maintenance costs. The new urinal-free heads will also be gender neutral.
"There's a lot more at play in the design objectives than (making the toilet areas) gender-neutral. We're saving money in maintenance costs, and we're improving quality of life," said [Capt. Chris] Meyer, manager of the Future Aircraft Carriers Program for the Naval Sea Systems Command.
Call me paranoid, but when I hear a P.C. term like "gender-neutral" uttered by an officer in the United States military, I immediately begin to worry.
Maybe this urinal ban really is about flexibility and saving resources, but we live in an era in which liberals are increasingly challenging gender distinctions in the public sphere. In recent years, at many colleges and universities, liberals have been lobbying for gender-neutral housing and gender-neutral bathrooms–all because official distinctions between men and women strike them as insensitive and discriminatory. We've got anatomical males who identify as women and anatomical females who identify as men. And we've got others who have had various surgeries and hormonal treatments that render their anatomy ambiguous.
All of these efforts at enforcing a gender-neutral world strike me as politically motivated above all. So the mere introduction of the "gender-neutral" phrase into the lexicon of our armed forces makes me worry that we've reached a point where decisions are being made in response to political pressure, not battle readiness. I'd hate to think that our Navy has been compromised by the politics of pee.
Maybe that's not the case. Maybe squat toilets really are more efficient. In that case, by all means, put them in. But I'd hate to be the sailor that has to clean the floor. With all that pitching and rolling it's got to be hard to hit the mark.
We all know the motto for the U.S. Air Force, "Aim High." Maybe it's time for the U.S. Navy to adopt a new motto of its own.
"Aim Low."
Click here to Like The College Fix on Facebook.