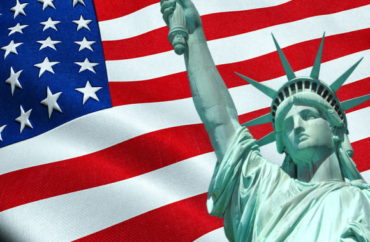 Institute expected to have a staff of nearly 60 people 
The University of Tennessee is working to launch an Institute of American Civics to teach about the founding principles of America and promote civil discourse and constructive debate.
As part of his "America at its Best" agenda, Tennessee Gov. Bill Lee allocated $6 million to establish the institute.
"In many states colleges and universities have become centers of anti-American thought, leaving students not only ill-equipped but confused. But in Tennessee there is no reason why our institutions of higher learning can't be an exceptional part of America at its best," Lee said when he first announced the institute in January.
"This will be a flagship for the nation, a beacon celebrating intellectual diversity at our universities and teaching how responsible and civic minded people strengthen our communities and strengthen our country," Lee said.
Under the law that established the institute, by March 2023 its board is expected to present a list of finalists for the position of director. By September 2023, the director is expected to develop and provide an annual strategic plan for the institute.
Reached for comment by The College Fix, the University of Tennessee media affairs department did not reply to specific questions but instead provided the March statement given about the institute from UT's office of the chancellor.
The statement touts the institute as one that will "foster a deeper understanding of the structures and institutions of federal, state, and local government" as well as "the principles and philosophies that contributed to the foundation and development of the United States and the state of Tennessee."
According to a mid-May article in the Knoxville News Sentinel, "UT anticipates hiring 56 people to support the institute. This includes not only the director and faculty members but also IT support and interns."
UT System President Randy Boyd is creating a 13-member board for the institute that will advise the yet-to-be named director, and UT Knoxville Chancellor Donde Plowman is set to name the director after a search process yields the best results, the Sentinel reported.
Furthermore, Lee said he has formalized a partnership with Hillsdale College to ensure that the Christian school's philosophies and teaching methods on civics education are brought to the institute.
We are establishing the Institute of American Civics at @UTKnoxville

This will be a flagship for the nation – a beacon celebrating intellectual diversity at our universities & teaching how a responsible, civic-minded people strengthens our country & our communities. #TNSOTS pic.twitter.com/eHib27fw3Z

— Gov. Bill Lee (@GovBillLee) February 1, 2022
"Two years ago I traveled to Hillsdale College where I participated in a President's Day celebration and spent time with, what I believe, are champions of American exceptionalism," the governor said. "For decades, Hillsdale College has been a standard-bearer in quality curriculum and in their responsibility of preserving American liberty."
Asked to address the need for the institute, Jonathan Butcher, education policy expert at the Heritage Foundation, said via email that American K-12 students are "woefully unprepared" in their civics education.
In 2019, Annenberg Center's annual survey reported that only 39 percent of Americans could identify the judicial, executive and legislative branches as the three branches of government. In 2021, that percentage jumped to 56 percent.
Though over half of those polled can name the three branches accurately, the surveys found there is a lack of understanding of America's founding structures, principles and philosophies.
Butcher said he welcomes "any effort made by education institutions to help Americans understand how to be participating members of society and to participate in our political process."
However, he warned that educators should be careful when they teach students these topics.
"Educators should teach students that they have a right to listen and be heard in public areas of college campuses," he said. If the University of Tennessee supports the fundamental freedom of the First Amendment, "students should feel confident enough to express their opinions without fear of reprisal from faculty, administration, or other students."
"Programs like this should become more common," Butcher said. "If this project helps students to debate tough issues, parents, taxpayers, and policymakers should hope this institute continues."
MORE: Here's the pro-free speech letter the U. Tennessee student newspaper wouldn't run
IMAGE: Don Fiere / Shutterstock
Like The College Fix on Facebook / Follow us on Twitter