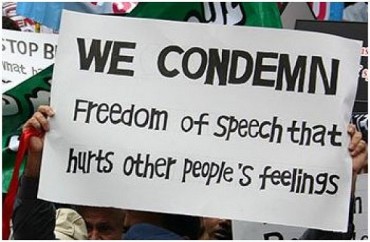 The University of Texas Police Department has voided the citation it gave a preacher this past Tuesday "because it did not meet the requirements of the law."
As The Daily Caller reported last week, the UTPD issued the ticket "after students complained that [the preacher's] message had offended them."
The officer who issued the citation is "in training," according to the department.
The First Amendment of the U.S. Constitution gives all people the right to freedom of speech. Even hurtful and hateful speech is covered under the amendment, and police officers must defend everyone's constitutional rights, [UTPD Chief David] Carter said.

"We're there to protect and serve, but we have to do so within the constitution framework," Carter said. "If there's not a threat of violence based on speech, the police really cannot do anything."

Carter said if an individual was threatening a student with their speech, the police could and would take action against that person.
RELATED: Offensive Campus Preacher – He's Wrong, But He Has A Right
Religious studies and history senior Matt Cooper said he does not agree with the message Smock and his colleagues are preaching or how they go about interacting with students near campus.

Cooper said he does recognize everyone has the right to free speech and that Campus Minisitry USA cannot be kicked off the public sidewalk for that. Cooper said he thinks the best way for students to react is to not give them attention.

"It seems to me the best way would be to just ignore him, because I do think that he is seeking a reaction," Cooper said.
Cooper might want to emphasize that very point as often as possible, because way too many of his peers just don't get it.
RELATED: Hellfire Preachers, Grace-Based Pastor, Students Clash on Campus
Like The College Fix on Facebook / Follow us on Twitter
IMAGE: Sam Graham/Flickr