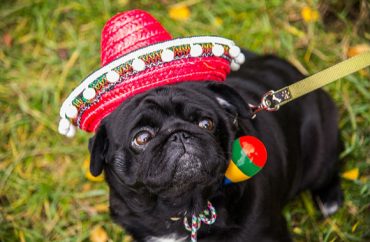 Never underestimate the inanity of college "studies" professors, especially given that they're usually on a quest for the next gripe du jour.
At a recent University of Texas confab, cultural studies prof Luis Urrieta opined that cultural appropriation — the use of certain aspects of one culture by another — is like an "intellectual property violation."
"Appropriation is a form of theft," Urrieta, a member of the Center for Mexican American Studies and a faculty affiliate at the Native American & Indigenous Studies program, said. "It is a nice way of saying that someone is taking someone else's (idea) and making it their own."
As reported by The Daily Texan, examples of this "theft" noted by a UT student were people wearing "pompom drop earrings" and "Huipil-inspired clothing."
Urrieta added that "a consumer appropriates other cultures when they [sic] ignore the product's place in a larger social narrative":
"In the process of taking, the taker ignores the significance, meaning, or his-, her- or they-story of the cultural items," he said. "The taker also does not credit the source in any significant or meaningful way."
Rachel V. Gonzalez-Martin, an assistant professor in the Mexican American and Latino/a Studies department, said there is a difference between appreciation and appropriation.

"Appropriation and appreciation are contextual — meaning you need to understand people and their motivations and personal histories before you can judge," Gonzalez-Martin said. "Appropriation is cultural poaching. Appreciation is an observational practice, that understands (the art is) built by living communities."

Urrieta said this pattern of appropriation is not without consequence.

"There are many economic, social and symbolic repercussions," Urrieta said. "The first is obviously the theft of intellectual property, the theft of communal knowledge … Socially, it reduces native and indigenous peoples to 'artifacts' that can be worn, used, consumed and displayed."

[Student Maria] Carranco said the social repercussions caused by the disparity between the appropriator and the appropriated are closer to home than most would think.

"Only (a white woman) can wear these and be seen as looking presentable," Carranco said. "Because if an indigenous woman wears those, she's not seen as presentable."
U. Texas certainly is not alone in dealing with the cultural appropriation nonse– er, problem; in late summer the University of Michigan advertised a position for someone to enact "cultural appropriation prevention activities." Salary: $50,000 per year.
A year ago at the University of California Merced, students involved in fraternities and sororities were told to avoid using the terms "Greek," "rush," and "pledge" because they "appropriated" Greek culture. Or something.
But perhaps the most outrageous reaction to this "cultural theft" occurred at San Francisco State University where a black student attacked a white peer because his hair … was in dreadlocks.
Read the full Daily Texan article.
MORE: Univ. wheelchair basketball event 'cultural appropriation,' promotes 'ableism'
MORE: Female student assaulted other girls for culturally appropriating braided hair
IMAGE: liukov/Shutterstock
Like The College Fix on Facebook / Follow us on Twitter