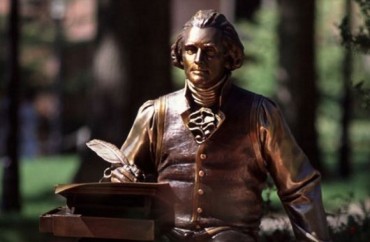 Hundreds of students and faculty at the University of Virginia have signed a letter asking University President Teresa Sullivan to cease quoting Thomas Jefferson in her communications to the campus community.
The Cavalier Daily reports Sullivan used some words from our third president in a post-election email, noting "Thomas Jefferson wrote to a friend that University of Virginia students 'are not of ordinary significance only: they are exactly the persons who are to succeed to the government of our country, and to rule its future enmities, its friendships and fortunes.'
"I encourage today's U.Va. students to embrace that responsibility."
But … Jefferson owned slaves, you see, as this is an important consideration to many faculty. They penned a response to Sullivan, which was signed by over 450 other staff and students.
"We would like for our administration to understand that although some members of this community may have come to this university because of Thomas Jefferson's legacy, others of us came here in spite of it," the letter read. "For many of us, the inclusion of Jefferson quotations in these e-mails undermines the message of unity, equality and civility that you are attempting to convey." …

"The intention of the email was to start a conversation with our administration regarding ways to be more inclusive," [Asst. Psychology Prof. Noelle] Hurd said in an email statement. "In the current climate, we must seize every opportunity to communicate that this university welcomes individuals from all backgrounds."

MORE: Students supporting Jefferson statue accused of  'defending slave owners'

Politics Prof. Lawrie Balfour said she believes everyone who signed the letter, including herself, was grateful that Sullivan responded to anxiety following the election — however, many felt it was the wrong moment to turn to Jefferson, following incidents of identity-related hate speech. …

Hurd said she believes the University should consider ways to better express inclusion.

"I drafted the e-mail because when Jefferson was referenced in emails related to the election, it communicated to me a message of exclusion," Hurd said.
Hurd added that Jefferson is "often celebrated for his accomplishments" without affirmation of the horrors he committed against "hundreds of" others.
Considering Jefferson founded the University of Virginia, one wonders how the letter's signatories can even stand to walk the very grounds of the campus.
h/t to Adam Kissel
MORE: Students demand Jefferson statue be removed, call him 'racist rapist'
MORE: Judging the past by the present: Progressives must believe they're the ultimate evolution
Like The College Fix on Facebook / Follow us on Twitter