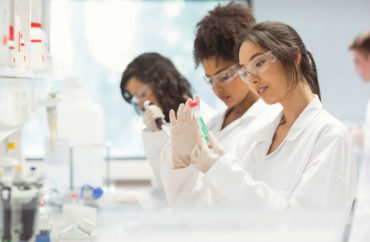 A University of Washington professor "provoked an immediate backlash" with a 4,500+-word report on why there aren't as many women in tech fields.
Senior lecturer Stuart Reges's "Why Women Don't Code" claims, among other things, that women "simply aren't interested in computer science" and that men are better at math and science.
"Men and women are different, and they make different choices," Reges told The Seattle Times. "The different choices they make explain a lot of what we see in terms of lower percentages of women going into tech."
Reges certainly is aware of the beehive he's disturbed; broaching this topic the way he has is virtually anathema in academia. He says he spoke out because he is worried that "descriptions of the tech industry as toxic for women will have the self-perpetuating effect of keeping women out of the industry."
The prof's essay got added scrutiny after U. Toronto professor Jordan Peterson tweeted about it.
Reges' essay drew a swift rebuke from Hank Levy, the director of the UW's Paul G. Allen School of Computer Science & Engineering. Two days after it was published, Levy sent a memo to the Allen School community saying the school disagreed with the essay's conclusions, and he emphasized the school's belief in the value of diversity in tech. Levy listed a dozen different efforts the university has led to increase diversity and inclusion.

"We acknowledge that we have a long way to go, but these efforts work," Levy wrote, noting that enrollment in computer science undergraduate and Ph.D. programs is around 30 percent women — up from 20 percent a decade ago. "We do not believe that where we are today is the best we are likely to achieve." …

"The only thing right about Stuart's article was that women are generally less interested in CS (computer science) than men," said [Andy] Ko, an associate professor in the UW's Information School and adjunct associate professor in Computer Science & Engineering (CSE). "He was just wrong about why."

And he said that for Reges "to share opinions, weakly supported by cherry-picked, misinterpreted scientific studies is not a good representation of the caliber of expertise at the university, or its values, or CSE, or the broader university's efforts at diversity and equity."
Another of Reges's UW peers took issue with his paper: the psychology department's Sapna Cheryan. Cheryan is one of the authors of the report "Ambient Belonging: How Stereotypical Cues Impact Gender Participation in Computer Science" which claims that "stereotypical objects" such as Star Trek posters "signal a masculinity that precludes women from ever developing an interest in computer science."
Being untenured, Reges knows he could be canned for his "controversial" paper.
"I guess I still will be surprised if I'm punished for this," he said. "I know people are angry, but I think they'll ultimately decide I have the right to speak my mind."
Yes, wouldn't that be nice … especially at a place designed to investigate and debate?
MORE: Star Trek posters, other geeky stuff are non-inclusive to women
MORE: Study: Women avoid STEM because society forces them to be feminine
IMAGE: wavebreakmedia/Shutterstock.com
Like The College Fix on Facebook / Follow us on Twitter