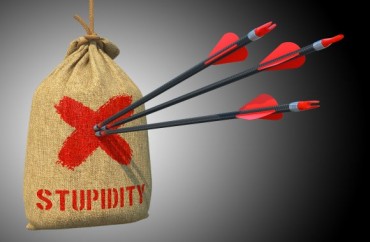 University of Wisconsin-Whitewater Chancellor Beverly Kopper apparently has never seen a skin exfoliation mask.
Proof: After she saw Snapchat images of two students with the commonly used skincare masks on, she sent out a campus-wide email denouncing the "disturbing racist post."
It seems she thought the duo were … in blackface.
"Last night a disturbing racist post that was made to social media was brought to my attention," Kopper wrote in her message.
"This post was hurtful and destructive to our campus community. While social media can certainly bring about positive change, it can also be a place that deeply hurts and harms others."
Remarkably, the students were the ones made to feel as if they did something wrong — because they failed to take into account how some (like Kopper) would react.
Kopper told local media that she spoke with the students in the photo after issuing her statement.

"They indicated they had no negative intention, that this was a facial," Kopper told NBC affiliate WTMJ-TV. "They expressed remorse, not realizing the reaction that would come from this post."

State Sen. Stephen Nass (R-Whitewater) put out a statement Thursday condemning Kopper's reaction: "The [chancellor's] official statement misled students, parents, and the public by confirming that a racist event had occurred, even though it really hadn't."
RELATED: Students stage 'die-in' to protest blackface in production co-written by black playwright
"The racial over-reaction of Chancellor Beverly Kopper and other UW-Whitewater administrators without first checking the facts of the situation is a stark example of how political correctness has warped the mindset of highly educated university administrators," Nass continued.

Kopper conceded to Nass' office that upon re-evaluation, she found that the students did nothing wrong and will face no punishment.
Well, that's big of her!
via @HuffingtonPost University of Wisconsin-Whitewater Chancellor Beverly Kopper is facing a b… https://t.co/x9DTWsZ3jc #UFO4UBlogWeird

— [email protected] (@UFO4U) February 20, 2016
Here is Chancellor Kopper's full message. In it, she says that "a new website will be on the campus homepage that will include an email link to reach the campus culture working group" where students can "share their stories" of life on campus — "including the use of racial slurs and microaggressions."
RELATED: Controversy Over Photo of Student in Blackface at Columbia U
Like The College Fix on Facebook / Follow us on Twitter
IMAGE: Shutterstock