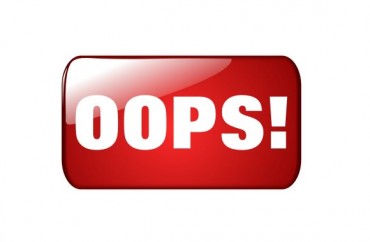 An instructor at the University of Wisconsin-Whitewater is dealing with a social media backlash after he tweeted a photo of himself "pretending to be Asian."
Matthew De Starkey's tweet showed him squinting his eyes and with a bowl on his head "as a conical hat." It included the caption "When your crush says she only dates Asians."
De Starkey, a "supplemental instructor" and "learning assistant" according to the university's website and his personal Linkedin profile respectively, made the tweet back on July 11.
Professor Toms, this is the instructor in our Accounting Dept. His name is Matthew De Starkey. pic.twitter.com/YtOpSaCWrh

— Chris Vuong (@TriumphantSky) July 15, 2018
In response to online criticism, De Starkey remained defiant, tweeting a picture of his middle finger with the caption "Short ass finger." This "reportedly" was a reference to the stereotype that Asian men aren't very well endowed.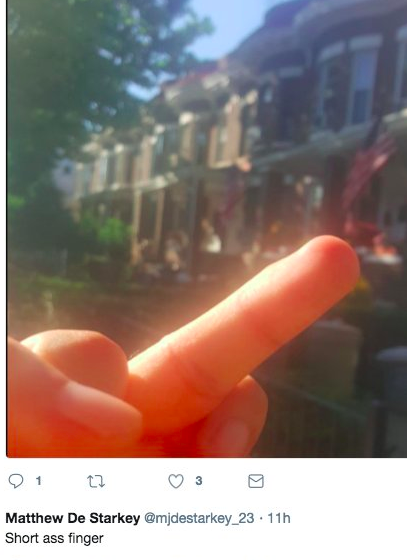 Resonate reports De Starkey ended up deleting the tweets and changed his Twitter name, but screencaps had already been taken by many.
Some tweeted that they had contacted UWW and were told the school was looking into the matter.
Kas Lee, an attorney who began an "Asian Outreach Program for Asian survivors of domestic violence and sexual assault" while in college, wrote a long missive in response to De Starkey's transgression, invoking — you guessed it — President Trump:
At a time in which previously-concealed racists have been emboldened by our nation's leader to step out and participate in overt verbal, emotional, and physical attacks, we as a community have a responsibility to be more vocal in our responses to such conduct. As an attorney for 15 years and an individual who has been active in the Asian American community for close to 20 years, I reject the notion that ignoring, taking the "higher road," and simply continuing on with one's life is an adequate response to racial hostility. …

If literature portraying Jews and people of color as animal-like and requiring extermination could justify setting limits on assaultive speech in 1993, then the mass deportation of immigrants, the detention of migrant children, the spike in hate crimes against Asian Americans, and the persistence of bias-based bullying on Asian students should also be cause for us to re-examine how we deal with racist speech. And in applying the three-tier test for assaultive speech to the instant case, Matthew De Starkey's tweets fit the bill. First, they played on the stereotype of Asians as the inferior race –i.e., perpetual foreigners amounting to no more than coolies. Second, they were directed at Asian Americans, a historically oppressed group and even alluded to an time of extreme discrimination and oppression — the 19th-century Chinese coolie trade. And third, the tweets were undeniably persecutory, hateful and degrading. We need to look no further than the replies that I received and continue to receive.
Lee recommends people contact UWW Chancellor Beverly Kopper about De Starkey, and to not accept a mere public denunciation of his actions.
"Commit to confronting those making racial remarks," Lee says. "Demand change. Leverage our power. Boycott. Write to other organizations in which they serve. Demand real consequences."
If @UWWhitewater thinks an empty statement will end this situation, it's in for a surprise. Asian passivity is a myth. We want 1) transparency in how you handle this. Will Matthew De Starkey continue to teach at @UWWhitewater in the future? 2) Stop deleting citizen complaints. https://t.co/H2nwOAfG6f

— Kas Lee | 李蕙儀 (@kasefiles) July 17, 2018
MORE: Asian groups worry about 'bias' in NYC school diversity efforts
MORE: 'Holistic' admissions to blame for low quantity of Asians at MIT
IMAGE: Shutterstock.com, Twitter
Like The College Fix on Facebook / Follow us on Twitter