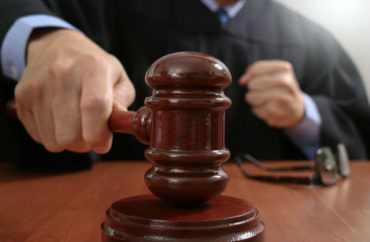 Where are we, Russia?
Many people have spoken in opposition to the witch hunt against the Santa Clara County Superior Court judge who issued a six-month sentence against Brock Turner, the Stanford student convicted of sexually assaulting an unconscious woman in public.
Among them: the local bar association, Stanford law grads, defense attorneys and even Turner's accuser, who has been widely praised for her victim impact statement.
Now Judge Aaron Persky has perhaps his highest-profile defender yet: the dean of the law school at the University of California-Berkeley.
Erwin Chemerinsky writes in The Sacramento Bee that the recall campaign against Persky – likely to be on the June ballot – is both harmful to an independent judiciary and intellectually dishonest.
He specifically calls out the Stanford law professor leading the campaign, Michele Dauber, for making false statements and misleading the public about legal procedure:
[Dauber] began her letter encouraging voters to sign a petition to have the recall on the ballot by declaring: "This week, we saw rape culture in action when Brock Turner filed an appeal."

But every criminal defendant has the right to appeal a conviction. To use that against the judge is unfair and just wrong.

On January 11, Dauber stated at a press conference that the California Constitution Center, a non-partisan academic research institution at Berkeley Law, concluded that this recall will not harm judicial independence. This is flatly incorrect.

Nothing in the California Constitution Center report supports this characterization; it is a description of the law and the history of recall efforts in California.
Erwin Chemerinsky, Dean and law prof at UC Berkeley School of Law: Recalling Judge Persky won't serve justice https://t.co/ttLgetM4hx

— Meaghan Ybos (@mey621) January 29, 2018
Chemerinsky warns of a slippery slope if California voters break 86 years of history by recalling a judge for an unpopular decision: The next recall effort could be against a judge for excluding evidence collected unconstitutionally or ordering the desegregation of a school.
The law dean shares personal stories to illustrate the danger of threatening judges for "light sentences":
After all, no one has begun a recall when a judge imposed an outrageously high punishment, such as in the first case I argued in the Supreme Court where my client received a sentence of 50 years to life under California's "three strikes law" for stealing $153 worth of videotapes. …

Several years ago, when I spoke in Russia, judges there told me how they would be removed if they did not rule as the prosecutor and the government wanted.
MORE: Mass incarceration will worsen because of mob against Aaron Persky
IMAGE: everything possible/Shutterstock
Like The College Fix on Facebook / Follow us on Twitter