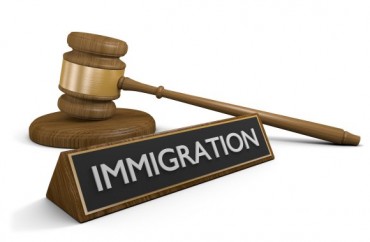 Chancellor encourages university community to donate to detainee's bail fund
University of California Berkeley administrators and an immigrant advocacy group are lobbying for the release of a student illegally in the country who was detained by ICE at the end of last year, with Berkeley taking "all appropriate actions" in order to assist the student, according to the school's chancellor.
Student Luis Mora was brought to the United States when he was 11 years old, according to a press release by the campus student immigrant advocacy group Rising Immigrant Scholars through Education. His visa expired "two or three years ago," according to his girlfriend Jaleen Udarbe, making his continued residence in the country illegal.
On Dec. 30, Mora and Udarbe were driving in San Diego when they encountered a Customs and Border Protection immigration checkpoint, according to The Daily Californian. Customs detained Mora for a few days before transferring him to the ICE-run Otay Mesa detention facility on January 3, where he is currently held awaiting a hearing to determine his status.
Mora's detention led to an outcry from the Berkeley community, with school officials working to secure his release.
Reached for comment via email, Berkeley campus spokeswoman Janet Gilmore told The College Fix that campus officials are taking "all appropriate steps to assist in efforts to secure the student's release and return him to campus to resume his studies."
"For example," Gilmore told The Fix, "the Chancellor has sent a letter to the judge in the student's case, advocating for the student's release."
"The timing and content of our communications on this issue are guided by our assessment of how best to secure the student's release," she added, "as well as by student privacy considerations."
In a statement, Berkeley chancellor Carol Christ announced that her office is "taking all appropriate actions to support the student's interests so that he may continue his studies and his life as a valued member of our community."
Christ added that the university "is currently working to ensure that the student has access to legal advice, attorney services and other resources necessary to mount what we hope will be a successful effort to end this detention."
"In addition," Christ's statement continued, "in partnership with [Rising Immigrant Scholars through Education], I have asked our government relations staff to work with our friends and allies in Sacramento and Washington, D.C., some of whom have issued statements advocating for our student's release."
"I am also ensuring that members of my administration and the campus community at large are aware of the opportunity they have to donate to the bail fund that our students have started," Christ wrote.
Both RISE co-chair Valeria Suarez, and Mora's lawyer, Prerna Lal, indicated that Mora would be made eligible for residency in several iterations of the DREAM Act, according to the RISE press release. Yet, Mora applied unsuccessfully for DACA status in 2009, The Californian reported.
The College Fix reached out to Valeria Suarez, co-chair of RISE, for clarification of Mora's legal status and eligibility for DACA. Suarez did not respond.
Requests for comment from Berkeley's Undocumented Student Program aso received no response.
Last week, Rising Immigrant Scholars through Education published a list of actions Christ should take to encourage Mora's release. Examples include: "Write your own letter of support and make UC President Janet Napolitano, along with your administrative team, write one as well," "ensure all undocumented students on this campus, especially 'un-DACA-mented' students such as Mora, will have access to a job and other basic needs."
In that same article, RISE criticized Christ for allegedly ignoring their activist efforts on campus.
"You asked us to meet with you back in October so you could 'listen' to our needs," the group wrote to Christ, "yet you continue to neglect our existence in this campus."
IMAGE: College leaders flood their undocumented students with help after Trump's DACA plan
MORE: Public university funds students' DACA renewal application fees
IMAGE: Shutterstock
Like The College Fix on Facebook / Follow us on Twitter