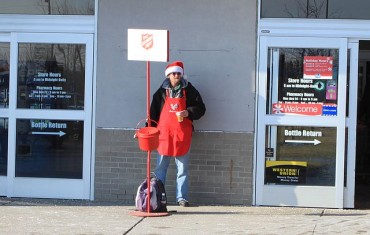 Via Campus Reform:
The student government at the University of California-Berkeley (CAL) passed a resolution last month that would ban Salvation Army bell ringers and their iconic red kettles from campus this Christmas because of the Christian organization's alleged bias against homosexuality.

UC Berkeley is "reviewing" whether or not they will prohibit the Salvation Army from operating on campus this Christmas, after students passed a resolution condemning the charity.

The resolution, cleared on November 14, accuses the charity of openly discriminating against gay individuals.

"Salvation Army church services, including charity services, are available only to people 'who accept and abide by the Salvation Army's doctrine and discipline,' which excludes homosexuality," reads the bill, SB 176.

In the resolution, the student body also demands school administrators revoke the Salvation Army's permit, which currently allows them to collect donations on the Berkeley campus.

"Allowing the Salvation Army to collect donations on campus is a form of financial assistance that empowers the organization to spend the money it raises here in order to discriminate and advocate discrimination against queer people," it adds.
Read the full story here.
Click here to Like The College Fix on Facebook.