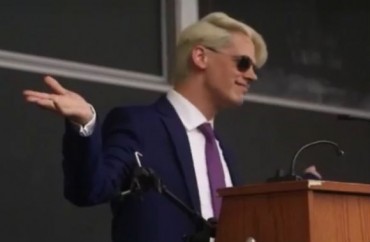 UPDATED
As UC-Berkeley's "Free Speech Week" approaches, dozens of professors at the public university are requesting a campus boycott saying "signs point towards an escalated and uncontrollable confrontation both on and off campus" during the events scheduled for later this month.
A letter endorsed by 76 faculty members urges the campus community to boycott the "alt-right events" of the Sept. 24-27 Free Speech Week and calls for a campus shutdown that week, The Daily Californian reports.
From the article:
The letter was co-written by seven faculty members, including campus associate teaching professor of African American studies Michael Cohen. It calls upon faculty to take three steps: cancel classes and tell students to stay home; close buildings and departments and allow staff to stay home; and not penalize students who are afraid of coming to campus.

"This is a clear threat to public higher education," Cohen said. "People are coming to humiliate others and incite violence. … The boycott is a refusal to allow this to happen on our campus."

According to Cohen, most of the students in his African American Studies 27AC class are students of color. Cohen said he believed that for him to ask his students to be on campus during Free Speech Week was unethical and discriminatory.
The letter, addressed to the university community and Berkeley community, notes that anti-feminist provocateur Milo Yiannopoulos, Ann Coulter and former White House Chief Strategist Steve Bannon are slated to speak during the Free Speech Week events. Claiming the speakers will bring a "media circus" to campus, the letter says there will be physical violence and online harassment directed toward the campus community.
"Many of these provocateurs' most committed audiences are online, and the Breitbart media machine uses that audience to harass, cyberbully, and threaten anyone who speaks out against them," the letter states.
The professors say they understand the public university has a duty to uphold free speech, but allege that doesn't include "speech that presents imminent physical danger and speech that disrupts the university's mission to educate."
"Milo, Coulter and Bannon do not come to educate; they and their followers come to humiliate and incite," their letter adds.
UC-Berkeley spokesman Dan Mogulof told The College Fix in an email that the university's "legal obligation is clear."
"The protections for free speech contained in the first amendment as interpreted by subsequent case law oblige us to allow any speaker who has been invited in accordance with our policies to speak without discrimination in regard to content," he said.
Regarding the professors' plan to cancel classes during Free Speech Week, Mogulof said instructors have the latitude to decide how they handle their curriculum.
The Free Speech Week is slated to include about 20 speakers total in addition to Yiannopoulos, Coulter and Bannon. The events are being hosted by the Berkeley Patriot, a conservative campus group. On Tuesday, POLITICO reported the events were "in doubt" and Mogulof told The College Fix on Wednesday that the Berkeley Patriot hasn't confirmed speakers and has also missed multiple security deadlines.
However, Yiannopoulos said on Facebook on Wednesday that reports of the event not happening are "fake news" and that Mogulof is "spreading rumors" about the status of the event.
Yiannopoulos also said he plans to bring "a 16-man Navy SEAL security detail" to campus during Free Speech Week to protect him and other speakers. Riots broke out in February at the UC-Berkeley campus when Yiannopoulos was slated to speak there.
Read The Daily Californian article.
UPDATE: This article has been updated to include UC-Berkeley's response regarding the professors' letter.
MORE:  'Rumors' that UC-Berkeley's Free Speech Week may not happen are 'fake news,' Milo says
Like The College Fix on Facebook / Follow us on Twitter
IMAGE: YouTube screenshot